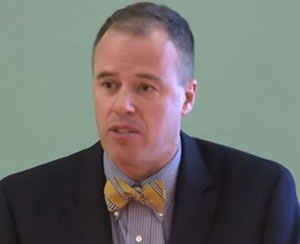 Sometimes I miss the days of covering campus wackiness as a student reporter, especially those events that sound innocuous and then a horde of angry protesters shows up.
That seems to have been the situation at Ohio University on Monday, when Brooklyn College history professor KC Johnson gave a talk titled "Abandoning Due Process: Campus Sexual Assault & Presumptions of Guilt."
Who can be against due process? Apparently a lot of young people wearing political T-shirts, holding signs and refusing to sit down.
Johnson is best known for his book analyzing the Duke lacrosse rape case with National Journal's Stuart Taylor, but you'd think he was Joe Pesci going up against a cartoonish Southern prosecutor to defend "two yoots" against Dixieland justice.
Two of the university's student publications, The Post and The New Political, live-tweeted the circus around Johnson's talk, including the heavy security presence.
Students stand up immediately upon KC Johnson starting his lecture. pic.twitter.com/U04UNL24xU

— Dina Berliner (@dinaivey) February 17, 2015
The Post editorial board had encouraged students Monday to attend the George Washington Forum lecture because it was "likely to be controversial."
Boy, were they right – but only in the way that vaccination is controversial in Marin County.
The New Political rushed out a full story after midnight that captured the circus elements:
As Johnson approached the podium, members of Student Union and F*ckrapeculture stood from their seats and turned to the crowd of around 70 people in the Baker Center. They wore hand-made shirts saying "RAPE IS REAL, THIS IS BULLSH*T", and some members held signs saying "SEX WITHOUT CONSENT IS ALWAYS RAPE" and "1 in 5 women will be SEXUALLY ASSAULTED during college".

The protesters sat down after some members of the audience audibly complained that they could not see Johnson and after a warning of their removal by the police.
F*ckRapeCulture, which we've covered before, was its usual reasonable self:
"As a member of F*ckrapeculture, we appreciate you coming to validate our fight against rape apologists such as yourself," Claire Chadwick said. "You clearly do not respect women or any survivor of sexual assault."
F–kRapeCulture stationed at the front of KC Johnson's talk, OUPD stationed outside and security checking bags. pic.twitter.com/CUFgGJhmCX

— Dina Berliner (@dinaivey) February 17, 2015
Just like those pernicious Scottsboro Boys, right?
The shirts sum up the crowd around me @ThePost #KCJohnson pic.twitter.com/m9cFbADUWf — Olivia Hitchcock (@ohitchcock) February 17, 2015
There was even a comical conflagration with an Ohio University journalism student and self-described "feminist shit-talker" in The College Fix's Twitter feed during Johnson's talk:
.@OUfckrapecultur Can you spread the word to report this person? They're making the rounds harassing activists. pic.twitter.com/lfEqyljoUo

— KitKat Addiction (@KitKatAddiction) February 17, 2015
"Report" for tweeting? MT @KitKatAddiction: .@OUfckrapecultur can u report this person? They're harassing activists. pic.twitter.com/HC99p04YWU — The College Fix (@CollegeFix) February 17, 2015
The problem is *what* they're tweeting. Please never talk to me again. @CollegeFix

— KitKat Addiction (@KitKatAddiction) February 17, 2015
If you think @CollegeFix is an account worth following you can get the fuck out of my feed — KitKat Addiction (@KitKatAddiction) February 17, 2015
Johnson took it all in stride, telling The New Political after the lecture:
"People have a First Amendment right to protest. My general sense is that if you're confident in your opinion, you're able to engage critically rather than in protest, but everyone has the right to handle protests as they see fit."
His antagonists did what you'd expect:
F*ckrapeculture live-tweeted the event on their Twitter page, mocking the lecture with comments ranging from using profanity toward Johnson to criticizing the format of his PowerPoint.
Yeah, professors and their PowerPoint! Funny stuff. Remember those old Zip drives? Those were in vogue during my classes.
I bet you could have a better argument over Zip drives versus rewritable CDs than whether someone should have due process. But I'm an old guy who hangs out with lawyers, so I'm out of touch.
Greg Piper is an assistant editor at The College Fix. (@GregPiper)
Like The College Fix on Facebook / Follow us on Twitter
Like The College Fix on Facebook / Follow us on Twitter