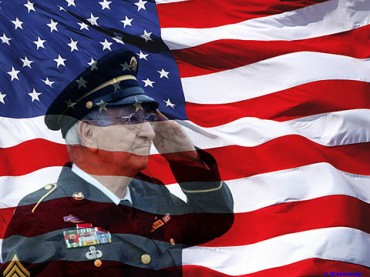 OPINION
PHOENIX – The Carl T. Hayden Veterans Affairs Medical Center is at the center of a national scandal surrounding the Department of Veterans Affairs that has prompted widespread outrage and the resignation of top agency officials.
Accusations of wrongdoing "include gross mismanagement of VA resources and criminal misconduct by VA senior hospital leadership, creating systemic patient safety issues and possible wrongful deaths," according to a report released May 28 by the agency's Office of Inspector General.
The hospital is also at the center of a family scandal. My father is a disabled Army veteran who has been receiving care – and dealing with administrative problems – there for decades.
While serving in the military during the late 1970s, my father became infected with the hepatitis C virus. This happened in an era when it was not standard practice for medical personnel to sterilize medical equipment or needles between mass treatment or immunizations of soldiers.
Since then, my father has twice undergone treatment at the Phoenix medical center, unsuccessfully in the early 1990s and then successfully in the early 2000s.
The problems with the medical center all stem from mismanagement and miscommunication, not the quality of medical care, my father said in an interview.
"For my service-connected condition, [the care is] pretty much excellent," he said, noting "there were a few hiccups along the way, a thing or two that raises an eyebrow."
'Never Actually Had Anyone Return My Call'
The main cause of these hiccups came from problems with scheduling appointments, which a recent CNN investigative report traced back to duplicitous scheduling practices.
The hospital reportedly has two waiting lists, an "official" waiting list reported to officials in Washington, D.C., and a secret waiting list that "was part of an elaborate scheme" in attempts "to hide that 1,400 to 1,600 sick veterans were forced to wait months to see a doctor," according to the CNN report.
Whenever veterans sought to schedule an appointment, they first had to called a helpline phone number, according to the inspector general's report.
From there, "staff from the Helpline collected patient demographics of the veteran, took a screenshot, and then printed the information," to make it appear as if the appointment had been scheduled.
The information obtained from the screenshot would then determine if personnel "either scheduled the veteran an appointment, placed the veteran on the [electronic waiting list], or determined the veteran was not a new patient," the CNN report said.
In the course of his care at the Phoenix medical center, my father frequently experienced these scheduling problems, with a long history of cancelled or rescheduled appointments, especially if it was the first time he was seeing a new doctor or undergoing a new test.
"Trying to get a new appointment, trying to get something new scheduled, that can be difficult," he said.
My father is annually tested for what are known as derivative health consequences following his decades-long infection with the virus, including screenings for liver cancer and monitoring for liver failure. Getting appointments to monitor these potentially serious conditions has proven problematic.
"Whenever I have to schedule an abdominal ultrasound, they always say 'call and set an appointment a month ahead,'" he said. "Well, you almost never get anyone when you call X-ray. The phone rings off of the hook, or you finally get an answering machine, and I've never actually had anyone return my call."
Sometimes, he says, he has to take matters into his own hands.
"I've found when you really need anything done at the VA you really just have to go there," my father said.
These delays in care may be connected to approximately 40 deaths of veterans who were waiting for appointments or medical care, according to the Arizona Republic.
And to make matters worse, officials at the medical center allegedly have been receiving kickbacks for manipulating the appointment records, according to a report by Open The Books, an online national database for transparency in public spending. From 2007 to 2013, Phoenix VA officials received $1,816,075 in performance bonuses.
'Nothing, Nothing, Nothing'
Miscommunication among the levels of bureaucracy managing the hospital and patients appear to be another problem affecting the care veterans receive.
In February, my father received a notice from the hospital that his primary care physician would no longer be practicing.
"I got a notice suddenly that [my doctor] would no longer be there and they would notify me when I had another doctor. Well – nothing, nothing, nothing," he said.
It wasn't until recently, after contacting the medical center multiple times, he was finally reassigned another doctor.
The scandal toppled VA Secretary Eric Shinseki, who announced his resignation May 30 amid the ensuing fallout. In his resignation speech, Shinseki called for the removal of senior officials from the Phoenix hospital, including Director Sharon Helman, who has been placed on administrative leave.
If This Is How We Treat Veterans, What About Obamacare?
The investigation is ongoing, and more revelations of corruption and mismanagement are expected to surface in the days and months to come.
However, the scandal begs a larger, more serious question.
If the bureaucracy in charge of healthcare for veterans – who have fought and been injured in the line of duty – has caused crippling inefficiency and gross negligence, how will increased governmental involvement in healthcare under President Obama's Affordable Care Act impact medical care for the rest of the country?
While there are distinctions that separate current medical care for veterans, which is directly administered through a government agency, and Obamacare, which largely seeks to regulate the healthcare and insurance industry, they share one thing in common: federal oversight.
Because of this commonality, VA medical care, once a prized talking point for proponents of Obamacare and socialized healthcare, now stands as a chilling look into the future of healthcare in this country.
Rather than focus on providing our country's heroes with quality medical care in a timely manner, those who were in charge instead were focused on lining their pockets and stood by as veterans died waiting for care.
Who's to say that similar corruption will not become the norm in the future under Obamacare?
Excessive wait times, difficulty in obtaining necessary tests, the rationing of care that veterans have been experiencing – this is a glimpse into the possible future of healthcare in America.
College Fix contributor Julianne Stanford is a student at the University of Arizona.
Like The College Fix on Facebook / Follow us on Twitter
IMAGE: Xalamay/Flickr