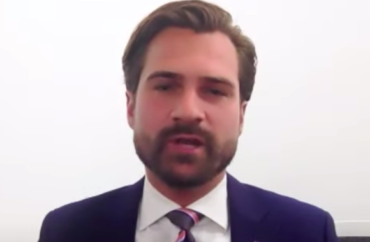 Announced on the twentieth anniversary of September 11
Todd Beamer was a bona fide American hero. The tech account manager helped rally the passengers of United Flight 93 to rush the al Qaeda hijackers on September 11, 2001.
They brought the plane down into a Pennsylvania field rather than letting it reach its intended target. No one lived to tell the tale, but many people believe Beamer and company saved the US Capitol.
Beamer was also a graduate of DePaul's business school with an MBA. Nicholas G. Hahn III is a graduate of DePaul who is very proud of his association, through his alma mater, with Beamer.
Hahn is a friend and former colleague from the Real Clear Politics family of websites. He told me last week that he had tried for years to get DePaul to establish a scholarship to memorialize Beamer.
Finally, he decided to take a lesson from Beamer's final recorded words, "Let's roll," and came up with the initial funding out of his own pocket. On the twentieth anniversary of September 11, the school put out a video and a news release announcing the new scholarship.
"I established the Todd M. Beamer Memorial Scholarship to raise awareness of Todd's heroism and to highlight DePaul's connection to that slice of history on that tragic day. I hope this scholarship will inspire DePaul students, the DePaul community, and beyond, to learn from history, to emulate Todd's courageous example, and to lead lives committed to those American founding principles contained in the Declaration of Independence and our Constitution," Hahn said in the video.
The scholarship will go to graduate students of the business school in good academic standing who have need.
I was surprised when Hahn told me he was establishing a scholarship, because that seemed like it would take an awful lot of money. Turns out, not so much.
"The university can structure donations tailored to just about anyone's particular financial circumstance," he said. In this case, they were able to structure it in a way that he could personally fund it, initially.
That $10,000 needs to get to $50,000 to be an "endowed scholarship," he told me, which means that the university uses the funds to invest and uses the proceeds to keep the scholarship going.
If the donations climb to $1 million, that endowment can guarantee one student a full ride, which is what Hahn is hoping for.
Hahn wasn't sure the exact amount that was raised after the September 11 launch when I checked back Wednesday. However, he said that there had been substantial interest in the scholarship and at least a few donations that donors told him about.
Hahn didn't hit me up for a donation, but he did ask if I would share the link with readers and that only seems fair. Here it is, Fix readers.
I asked about his overall experience with the funding process. What would he say to others who, like him, are not made of money but who have a burning desire to set up a specific kind of scholarship at their alma mater?
"Let's roll," Hahn said.
MORE: DePaul University refuses to cut ties with Chicago police despite demands
IMAGE: Youtube screenshot
Like The College Fix on Facebook / Follow us on Twitter