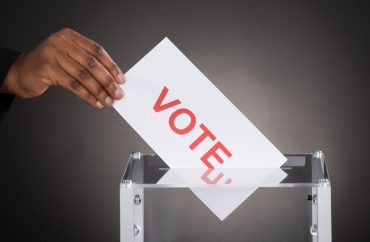 University clarifies voting card cannot be used to register to vote
An undercover investigation by the MacIver Institute found that the University of Wisconsin-Madison gave an ID card for voting eligibility purposes to a student who is not a U.S. citizen.
Voters in the Badger State are required to show a photo ID to vote, and one of the acceptable forms of ID are photo ID cards issued by a Wisconsin accredited university or college.
"It might be hard to believe, but nothing illegal happened here," states a video of the incident by the MacIver Institute for Public Policy, a free market think tank in Wisconsin. "The university is following the letter of the law for issuing voter ID cards even if this would appear to be a huge loophole."
The student in question is from China and is attending UW-Madison on a student visa. He appears to have fully participated in the undercover investigation. His face is blurred in the video.
The student tells Bill Osmulski, the author of the story, that the information given to him with the card states that he must be 18 years old and a U.S. citizen to be eligible to vote.
But "despite the disclaimer, he already has everything he needs to vote," the video states. "Proof of residence, and a photo ID, given to him freely by the UW with no questions asked."
The University of Wisconsin on Thursday pushed back on the investigation, with a spokesperson telling The College Fix that "an ineligible voter cannot vote simply by obtaining the university voter ID card."
"The university-issued voter ID can only be used by someone who is already a registered voter," Meredith McGlone, director of News and Media Relations at UW-Madison, wrote in an email to The Fix. "Its purpose is solely to serve as photo ID, not to establish eligibility for voting. … An ineligible voter cannot vote simply by obtaining the university voter ID card."
She also took issue with the video's mention of "foreign exchange student," clarifying that the university does not have foreign exchange students.
In the video, the student is depicted going to a university office and asking for a voter ID card. He is asked if he has his student ID with him, and he presents it to the university worker. He then signs a sheet of paper and is given a voter ID card along with a piece of paper with more information about the card.
In January 2016, UW-Madison Chancellor Rebecca Blank issued a press release announcing that the university was going to help facilitate student voting. This meant providing students with more resources to make it easier to obtain documentation to register to vote.
"[W]e actively worked with legislators to ensure that colleges and universities had the ability to issue voter ID cards to our students," the release stated.
"… Our students who are Wisconsin residents will be able to use their Wisconsin driver's license or their non-driver Wisconsin ID. A passport is also valid and can be used by U.S. citizens from outside Wisconsin," it said. "For those non-Wisconsin students who are U.S. citizens but who don't have a passport, the university will provide a voter ID card that complies with state law."
Students can go to their university account and print off a "Voter Eligibility Verification Letter" and can obtain a special student voter ID, the MacIver Institute investigation reports.
The investigation claimed that "the university makes no attempt to confirm students are U.S. citizens before providing them with voter ID cards."
"The university's process follows the letter of the law, but its casualness is cause for concern," the video states.
When contacted for comment, Osmulski stood by the investigation.
"The university's statement is correct," he told The Fix in an email. "The student voter ID has one purpose, and that is for registered voters to identify themselves before voting. That's exactly why the university should not be issuing them to students who are ineligible to vote."
"The university might be following the letter of the law, but it's carelessness with implementing it is both newsworthy and cause for concern."
MORE: University's 'Voting is Sexy' class hopes to 'make voting irresistible'
IMAGE: Andrey Popov / Shutterstock
Like The College Fix on Facebook / Follow us on Twitter