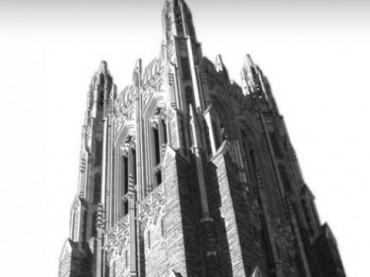 Does Duke University get a pass on being a leftist cesspool since its men's basketball team is so great? I was just wondering, because while a lot of messed up things happen at a lot of different universities, Duke continues to hog the spotlight in that regard.
Currently, a student at Duke University who has penned columns for the Duke Chronicle that favor conservative and libertarian principles is the target of a student protest demanding his termination as the campus newspaper's opinion editor in a petition that calls his views "racist" and "unsafe," an outcry summarized elsewhere on The College Fix.
Also happening right now, "incoming freshmen at Duke University are expected to read a graphic novel with cartoon drawings of a woman masturbating and multiple females engaging in oral sex—as well as participate in group discussions during orientation," Campus Reform reports.
These are just the latest in a string of stories exposing some of what's going on over in Durham.
In May, an 80-year-old Duke University professor came under fire for arguing Asian Americans have integrated into America better than African Americans. He didn't use the best choice of words in arguing that premise, but it's not altogether incorrect on several levels. Nevertheless, instead of the "academic freedom" mantra administrators wave when a liberal professor says something against Christians or conservatives, Duke higher ups were quick to denounce their scholar's opinion, calling it "noxious," "offensive," with "no place in civil discourse."
That story came on the heels of another controversy at Duke, this time over a noose discovered on campus. There was the typical apoplectic response to such a discovery, used to "educate" its students. Eduardo Bonilla-Silva, chair of Duke's sociology department, bemoaned "Duke is not a neutral racial space," and that the school "oozes whiteness." (This is the same Duke sociologist teaching about "Racism without racists" today in America).
Yet now it appears to have been – surprise – some sort of joke. Another way to put that might be a hate-crime hoax? Duke University claims it would violate student privacy law if it revealed anything about the culprit, but it's not a tactic used by other colleges when (white) students are found guilty of hate crimes.
Also earlier in the spring, an Islamic feminist was disinvited to speak at Duke after its Muslim Students Association complained she was an Islamophobic sympathizer. She was eventually re-invited in what Duke campus officials called a "misunderstanding." But the Muslim Students Association still boycotted her talk.
And who can forget the ill-fated attempt at Duke to allow the Muslim Students Association to amplify a weekly call-to-prayer from the Duke Chapel bell tower? Or the Orwellian decision earlier in the fall semester to label "Man Up," "Don't Be A Pussy" and other phrases "offensive language" at Duke?
Additional Duke highlights from recent years:
MLK Event At Duke University Turns Into Rant Against Republicans Jan. 2014
Duke Students Walk Out on Conservative Speaker Oct. 2013
Duke Raises Student Fees to Pay for Sex Change Surgery May 2013
Duke Launches Program to Cultivate Feminist Activists Feb. 2013
We report on a lot of things about a lot of different campuses, but if Duke keeps this up, the NCAA basketball championship isn't the only title it's going to win.
Jennifer Kabbany is editor of The College Fix (@JenniferKabbany)
Like The College Fix on Facebook / Follow us on Twitter