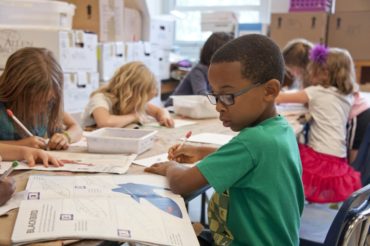 Parents need information and choice, panelists say
Parents need more options and better information on early-childhood education, a panel of experts hosted by a conservative think tank said on February 2. The experts believe that states can lead on this issue, but there has to be changes in how they approach education.
"We believe there's an essential role in state government for early childhood, but right now, states aren't set up to play that role effectively," Elliot Regenstein, a partner at law firm Foresight Law + Policy, said during the event.
The American Enterprise Institute held the virtual panel to discuss the next steps for a conservative early childhood education agenda.
The discussion, called "The next conservative early childhood education agenda," aimed to explore the policies and ideas conservatives should pursue.
Rick Hess, AEI's education policy director, hosted the discussion that started off with Regenstein's comments.
Regenstein said state governments can play an important role in early childhood development. However, he said that states are not currently carrying that role out effectively, due to a lack of organization.
"[W]ithout better information and the better technology to support it, even states that get organized will have a hard time coordinating services," the educational law attorney said.
Chris Strausz-Clark agreed with the assessment, pointing out a lack of information available to parents. He is the managing principal of Third Sector Intelligence, a data and information collector based in Seattle.
He and Regenstein teamed up last month to write a paper for AEI on how states can help parents in their decision on where to educate their children. However, the information available to parents in comparing the education options available has been awful, according to Strausz-Clark.
"Parents have a hard time gauging quality [of their options]," Strausz-Clark said. "And sometimes there just aren't decent options period, but it's even hard to figure that out."
The group agreed that states needed to be clearer in what options are available to parents looking to educate their kids. Hess said that some conservatives are hesitant about spending more money on increasing options.
Cara Candal, the director of educational opportunities at ExcelinEd, also participated in the discussion. The nonprofit organization supports school choice and innovation in education.
Candal said that conservatives should take advantage of the moment and invest in more options in education.
MORE: Trump renews push for school choice
She brought up an organization in Utah called Waterford Access that helps parents in rural communities learn how to use a tablet. Candal said that the state investing in this program not only helps parents who may not have had an education, but it also serves as an innovative way to expand the educational options available to parents.
Programs like these can only happen if conservatives are more open to the idea of spending the money on it, the nonprofit organization leader said.
"If we stay locked in our little box about how do we fund early childhood and should we spend money on it or should we not spend money on it," Candal said, "then we're never going to get to funding these innovative solutions for the millions of families that have no childcare."
The vice president of government relations for KinderCare shared similar sentiments.
Celia Hartman Sims said that conservatives need to take the time to ask parents what they want and need in their children's education. This should be done before any new education programs are made, Sims said, so that the programs that are made are able to satisfy the needs that parents have.
"Before we start to craft something anew and develop data systems and all of that to 'track that', I think we need to step back and ask parents what it is they need," Sims said.
She then discussed school choice for early childhood education, saying "with whatever the subsidies or provision is, how do we support parents and the choices they make."
"[T]wo sets of parent may make two very different choices for where and how they want to take the care and education of their 2 or 4-year-old," Sims said. "[A]nd we need to respect that because they best know what their 2 or their 4-year-old needs at that time in their development."
MORE: Teacher vaccination not a 'prerequisite' for school reopening, CDC director says
IMAGE: CDC/Unsplash
Like The College Fix on Facebook / Follow us on Twitter