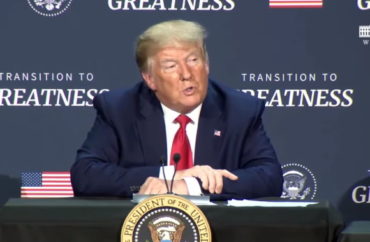 Remarks come as Supreme Court set to rule this month on major school choice case
President Donald Trump is once again shining the national spotlight on the need for school choice, calling on Congress to enact reforms and pledging to "get that straightened out."
"We're renewing our call on Congress to finally enact school choice now. School choice is a big deal, because access to education is the civil rights issue of our time," he said during remarks Thursday in Dallas during which he also addressed policing issues in the wake of the George Floyd-inspired protests and riots.
Trump listed school choice during the roundtable discussion as part of his overall plan to address racial unrest in the country.
"When you can have children go to a school where their parents want them to go … it creates competition. And other schools fight harder because, all of a sudden, they say, 'Wow. We're losing it. We have to fight hard.' It gets better in so many different ways," he said.
"But there are groups of people against that. You have unions against it. You have others against it. And they're not against it for the right reasons. They're against it for a lot of the wrong reasons. And we're going to get that straightened out," he said.
MORE: Low-income moms ask Supreme Court to stop limiting school choice
Trump's remarks piggyback ones he made during the 2020 State of the Union address, indicating Trump believes school choice is an important issue to take on.
"No parent should be forced to send their child to a failing government school," the president had said earlier this year during the address.
He continued by calling on Congress to pass the Education Freedom Scholarships and Opportunities Act, "because no parent should be forced to send their child to a failing government school."
"Every young person should have a safe and secure environment in which to learn and to grow," the president had said in February 2020.
Meanwhile, the Supreme Court is expected to rule this month regarding the school choice case of Espinoza v. Montana. The major education case is set to decide whether "states may exclude religious schools from generally available scholarship programs, or if such exclusions violate the U.S. Constitution," the Institute for Justice, which is arguing the case on behalf of school choice proponents, states on its website.
"If we're successful in Espinoza, we'll remove the largest legal obstacle standing between thousands of children and their chance to receive a better education," institute President Scott Bullock stated.
MORE: Groups call on Supreme Court to toss anti-Catholic relic that blocks school choice
Like The College Fix on Facebook / Follow us on Twitter