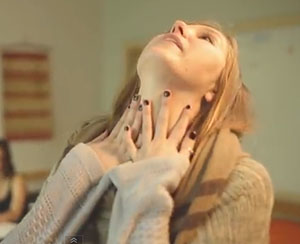 Oh, how I despair for the next generation of comedy writers.
It's not just comedians who are avoiding college campus gigs because students are hypersensitive – it's student writers themselves who are marking certain subjects off-limits.
The Daily Pennsylvanian has a nice little feature on how Penn students in comedy groups are reacting to the Charlie Hebdo massacre. The wrong way, pretty much:
"There are certain ways you can talk about certain groups," said Rosa Escandon, College senior and head writer for Bloomers — an all-female comedy group on campus. "I like to think that all jokes are okay as long as it's making the joke about society rather than about the victim of society."
"Victim of society"? What does that even mean?
In theory, anything you want it to mean.
It would seem to apply to the oppressed religious and ethnic minorities who lashed out at a sneering society by shooting up a cartoon office, as well as the stereotypical villains in the dorm.
Accused students under the thumb of campus sexual-assault tribunals that deny them due process easily qualify as "victims of society" – yet barbs directed at alleged rapists are all the rage (in particular a certain former Jell-O spokesman).
The most recent episode of The Mindy Project mines the "nerd virgin" stereotype for big laughs, even though we know from personal stories told by MIT professor Scott Aaronson and others that the perceived judgment of society drove these awkward loners into pits of despair. (It's a hilarious episode.)
Even victims that we could all agree on – let's say orphans – are frequently the butt of jokes. Remember the recurring orphans on The Simpsons and that ghastly bronchial wheeze? It's funny because, as a University of Colorado humor researcher would say, it's a "benign violation."
And if victims are off-limits, it's not a stretch to say that putting their oppressors in a humorous light only diminishes their evil, as Escandon herself found out:
In terms of religion, though, the group admits that it is often difficult to preserve the comedic value of their material without offending someone. Escandon — a 34th Street Lowbrow editor — admits that she has even had small generational disputes with her mother after telling her that Bloomers had performed a skit called "Imperialists Anonymous."

"My mother heard the words 'there was someone playing Hitler,'" Escandon said, laughing, "and she was like 'Oh my God, Rosa, that is not okay.'"
Rather than saying "you can't joke about X," Bloomers would do well to consider that humor is an inherently community activity that creates an "us" and a "them," not a victim and an oppressor.
In his book The Morality of Laughter, F.H. Buckley argues that humor only works if there's a "social tie" between the wit and the audience, "a solidarity with the jester in laughing at the butt," in the words of one reviewer:
The laughter is judgmental. The jester has proclaimed his superiority over the butt, and the listener who laughs agrees. "There is no laughter without a butt, and no butt without a message about a risible inferiority."
The good news is Bloomers doesn't seem to taking its head writer's philosophy too seriously, because this sketch is funny enough to get the writers fired from the Michigan Daily. "Hey, I'm diggin' that tattoo of gender."
Greg Piper is an assistant editor at The College Fix. (@GregPiper)
Like The College Fix on Facebook / Follow us on Twitter
IMAGE: YouTube screenshot
Like The College Fix on Facebook / Follow us on Twitter