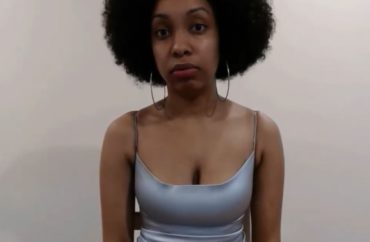 Georgetown University activist: 'My blackness served as the catalyst for my radicalization'
When Kayla Friedland enrolled at Georgetown University, she said she supported nonviolent protests as a form of political expression. Today, she advocates for something else, to "fight."
Friedland argued that she and her peers have been "molded into soldiers in a war many of us were born into just by being black" in a roughly 10-minute monologue as part of the university's TEDxGeorgetown event this weekend.
Friedland explained in her Nov. 14 speech that a series of events as an undergraduate has helped shape who she is today: a self-described "insurgent."
For one, she said she feels that the mostly white liberals at Georgetown are all talk, no action, and apathetic to her plight. Additionally, she said that her participation in the "D.C. uprisings" over the summer solidified in her mind that regardless of whether protesters aim to be peaceful, "violence is what we face."
"The violence on the part of protesters is always reactionary," Friedland said in her talk, titled "The Road to Black Liberation Isn't Yours to Choose."
"We have nothing to lose but our chains," she added. "What is radical to you is necessary to me."
"My life experiences have taken me from the blissful idea of nonviolence to a much harsher understanding that my body, my life, will have to be on the line to ever see the changes I desire."
She argued that "looting is a legitimate form of protest in a country that values property over people and it seems to get the public's attention more than the loss of black life does."
During her talk, she broke down her transition from peaceful activist to insurgent.
She said in her youth and during high school she subscribed to notions of violence "not being the answer. And two wrongs don't make a right." But after she arrived at Georgetown she said she eventually learned non-violence "could not always apply to the liberation movement."
She explained that she is biracial, half-black and half-white, and has had heated discussions about Black Lives Matter and privilege with family members.
"My family struggles to understand how it is that I have essentially transformed into an insurgent," Friedland said, adding the talk was a way to reclaim her narrative and explain her metamorphosis.
She said she joined a political club [College Democrats] on campus in search of like-minded people after she arrived at Georgetown and tried to see the positive side of things, but felt she overestimated her peers' desire to effect change.
"I grew increasingly frustrated with the apathetic nods I would get during our general body meetings when I would speak of the importance of diversity and inclusion work," Friedland continued.
She also spoke of a success she experienced when she helped lead a sit in, prompting administrators to cave to several demands and helping her realize aggressive action works better than asking nicely.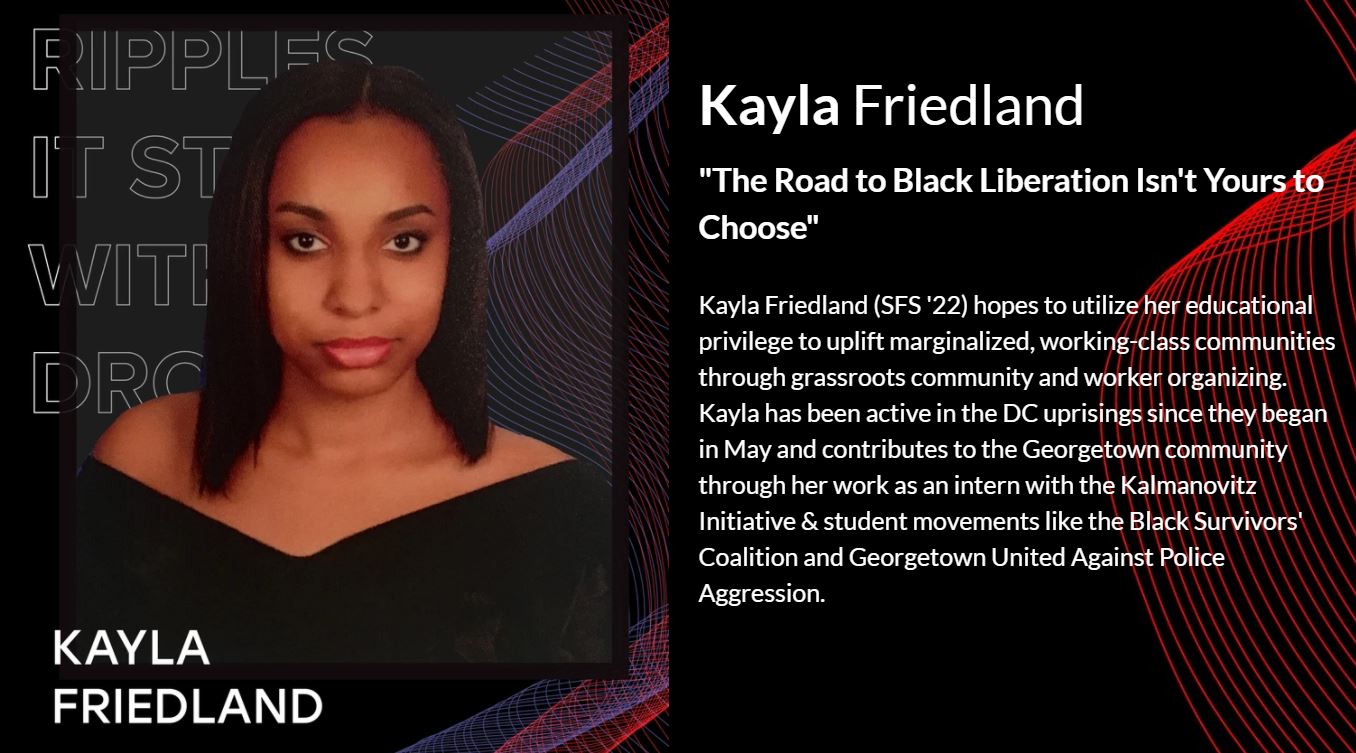 Finally, Friedland brought her story to the unrest that hit the nation's capitol over the summer, what she called the "D.C. uprisings."
She argued that during this time she and her "comrades" always felt there was a "target" on their backs when they left their homes.
"We felt danger from all angles, avoiding the alt-right trying to dox us and the white supremacists looking for game — all to fight for our right to live," she said. "And that is not to speak of the violence we face standing toe to toe with law enforcement every single day as they intimidated us, restricted our right to protest, and blocked off community areas and resources."
"… We found that regardless of how peaceful we presented ourselves to be our blackness was enough to warrant a threat."
She said one day she was involved in a protest during which police pepper-sprayed activists. She said she was "shot twice by bullets encased in rubber and coated with pepper spray."
"I have a scar on the back of my arm that will likely never heal, not to mention the emotional scars I know won't," Friedland said.
She said while she is still personally non-violent and has not been in a fight, "participating in this movement, believing in this movement, while it may seem like a choice, is a responsibility — my responsibility — though it should be ours."
"My identities were the catalyst toward my radicalization. But I hope that even for those that are not bound by identity to a radical politic that they feel called in," she said. "We cannot just wait anymore. We clearly cannot rely on policy makers … and cannot expect the police state to dismantle itself."
"So what can we do when we've tried peace, only to be blatantly met with disregard. … So frankly I urge you to forget the rhetoric of riots versus peaceful protests. The Civil Rights movement was a riot. … The arguments of peaceful protests stem from a position of privilege, but for communities like ours we either accept we will not be listened to or be spoken over — or we fight."
Georgetown officials did not respond to an emailed request for comment Wednesday.
MORE: Professor says questioning systemic racism 'is itself offensive and racist'
The views in this article do not represent those of the Department of Defense or the United States Army.
Like The College Fix on Facebook / Follow us on Twitter