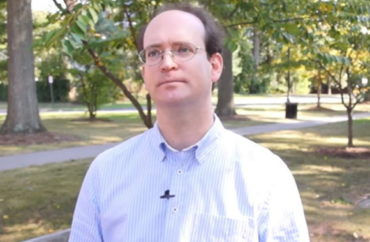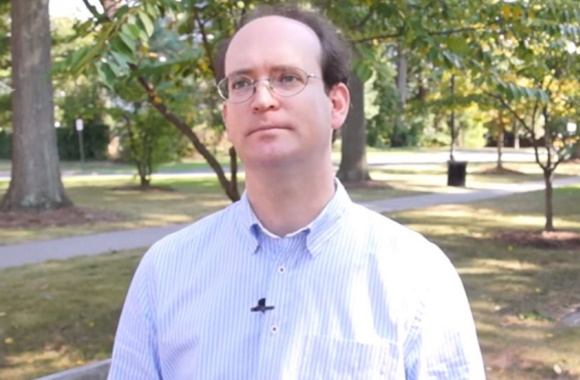 UPDATED
More than 200 Princeton University faculty recently signed a letter demanding nearly 50 initiatives to address what the scholars contend is rampant anti-blackness and racism that festers at the Ivy League institution
One classics professor at Princeton University decided he was not going to let their rhetoric stand unchallenged — and for that the so-called cancel culture mob has set its sights on him.
Professor Joshua Katz is the latest target of campus social justice warrior activists and academics furious over his "Declaration of Independence" column he wrote in response to his peers' racial justice demands.
A petition demands Katz be publicly tarred and feathered. Princeton University President Chris Eisgruber condemned Katz in the pages of the Daily Princetonian. Other professors called Katz out in the same article, suggesting he's racist. A campus spokesman is also quoted as saying administrators "will be looking into the matter further." More recently, a counter statement in defense of Katz has been published.
In a sense, Katz is not alone. Independent-minded Princeton students who also recently spoke out against their peers' similar race-based demands were cyberbullied and called racist.
Katz, for his part, said he has yet to be contacted by campus authorities amid the uproar over his column, published July 8 on the website Quillette.
"I would be surprised if any such action were taken or even seriously contemplated. It would be in violation of legally enforceable guarantees of free speech (the 'University of Chicago Principles') adopted by the University by formal vote of the faculty and set forth in the University's rules," Katz told The College Fix via email Tuesday, adding that he would defend himself if they did.
"But, again, I do not believe that action will be taken or that an enforcement action will be necessary. We have at Princeton an ethos and strong tradition of respect for free speech, and although senior administrators, exercising their own rights of free speech, have strongly criticized what I wrote, Princeton's administration has been entirely supportive of our University's principles of free expression."
Under fire for calling black student group 'terrorist organization'
Katz's "Declaration of Independence" had supported some of the racial justice measures endorsed by his peers, but called out several others as absurd:
But then there are dozens of proposals that, if implemented, would lead to civil war on campus and erode even further public confidence in how elite institutions of higher education operate. Some examples: "Reward the invisible work done by faculty of color with course relief and summer salary" and "Faculty of color hired at the junior level should be guaranteed one additional semester of sabbatical" and "Provide additional human resources for the support of junior faculty of color." Let's leave aside who qualifies as "of color," though this is not a trivial point. It boggles my mind that anyone would advocate giving people—extraordinarily privileged people already, let me point out: Princeton professors—extra perks for no reason other than their pigmentation.

"Establish a core distribution requirement focused on the history and legacy of racism in the country and on the campus." There would be wisdom in this time of disunity in suggesting (not, in my view, requiring) that students take courses in American history and constitutionalism, both of which almost inevitably consider slavery and race, but that is not the same thing. Not incidentally, if you believe anti-blackness to be foundational, it is not a stretch to imagine that you will teach the 1619 Project as dogma. …

"Acknowledge, credit, and incentivize anti-racist student activism. Such acknowledgment should, at a minimum, take the form of reparative action, beginning with a formal public University apology to the members of the Black Justice League and their allies." The Black Justice League, which was active on campus from 2014 until 2016, was a small local terrorist organization that made life miserable for the many (including the many black students) who did not agree with its members' demands. Recently I watched an "Instagram Live" of one of its alumni leaders, who—emboldened by recent events and egged on by over 200 supporters who were baying for blood—presided over what was effectively a Struggle Session against one of his former classmates. It was one of the most evil things I have ever witnessed, and I do not say this lightly.
It was that last bit that upset many readers, as the largest point of contention over his column is that Katz referred to a student group, the Black Justice League, as a "terrorist organization."
President Eisgruber told the Daily Princetonian, "While free speech permits students and faculty to make arguments that are bold, provocative, or even offensive, we all have an obligation to exercise that right responsibly," and added, "Joshua Katz has failed to do so, and I object personally and strongly to his false description of a Princeton student group as a 'local terrorist organization.'"
Ben Chang, a university spokesman, told the Daily Princetonian that the university would look into the issue. The university did not respond to a request Tuesday from The College Fix on exactly what that means.
A petition launched against Katz states, "We condemn its demonization of student organizers, its belittling of faculty members in their support of anti-racism, and its flippant dismissal of efforts to combat systemic racism at Princeton while minimizing the very presence of that racism itself." So far it's been signed by dozens of students.
In the Princetonian article, other colleagues of Katz piled on, including one professor who claimed Katz's comments led to an increase in death threats against the Black Justice League.
MORE: In the George Floyd Era, professors find themselves under attack
Professor Tracy Smith told Eisgruber in an email obtained by the Daily Princetonian that there was "an uptick in death threats" against members of the Black Justice League. The Daily Princetonian reports that it could not verify her claims, and Smith did not respond to a request for comment from The College Fix. The Black Justice League also did not immediately respond to a request for comment Tuesday from The College Fix.
In a letter to the editor in the Princetonian published Tuesday, Katz defended his wording choice:
Was the BJL literally a terrorist organization? By the FBI's standards, no, because its members never engaged in physical violence. And yet their use of fear tactics to intimidate fellow students who attempted to debate them in good faith merits, in my view, the metaphorical designation.

Active on campus from 2014 to 2016, the BJL went after one fellow black student with
particular vigor, verbally vilifying her in public at every possible opportunity, calling her all sorts of unsavory epithets and accusing her of "performing white supremacy." Other students, as well as faculty and administrators, they accused, without evidence, of being "racists" and "white supremacists." There are few terms these days that, when bandied about, instill greater fear among people of good will than "racist": by wantonly using the term, the BJL engaged in intimidation and did what it could to stifle dissent. Their speech may have been protected by law, but they were terrorizing.

I could at length go into the definition of the adjective "terrorist" as found in standard
dictionaries and explain why I feel justified in having used the term. In brief, a terrorist
organization is one that systematically induces a state of intense or overwhelming fear. …
Katz also takes on his critics in the letter, noting "I am hardly alone in feeling that the 'Faculty Letter,' for all its good suggestions, contains demands that run from wrong-headed to illegal."
And he adds he has received a ton of support from current students, faculty, alumni and others as he works to add debate and the Socratic method to his Ivy League institution.
In his email to The College Fix, he said that the debate over his wording choice is a red herring.
"There has been a very granular focus on my word choice in the article, but to me that discussion misses the forest for the trees," Katz said. "This is about the utterly toxic and dysfunctional climate right now for free speech and open debate."
"The real question here is not whether you like my word choice, but whether we want to live in a society where someone's rhetorical characterization of the tactics of a now-defunct student group should be grounds for a campaign of personal and professional destruction," he said.
"In my view, when we attach such a high cost to the expression of opinion, it chills free speech and open debate in a way that is deeply destructive of the critical ability to have a robust national dialogue about difficult issues."
Alumni speak out in support of Katz
The counter statement, published on July 16 and organized by Princeton alumni, defends Katz and reminds Princeton of its obligations under its charter principles to promote free and open discussion.
"The purpose of the university is the pursuit of truth and the propagation of knowledge among a community of scholars—teachers, students, and researchers—who are committed to these ideals for their own sake," the group noted.
"It is Princeton University's noble tradition also to pursue these aims 'in the nation's service and in the service of all humanity.' Professor Katz's intervention was entirely in accord with these ideals."
It has been signed by at least 60 alumni as of Friday morning.
Editor's note: Several days after publication, some Princeton alumni began circulating a statement in support of Professor Katz. This article has been amended to include the statement.
MORE: Scholar forced to resign over study that found police shootings not biased against blacks
IMAGE: YouTube screenshot
Like The College Fix on Facebook / Follow us on Twitter