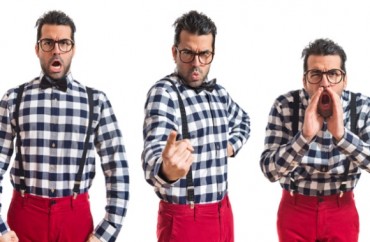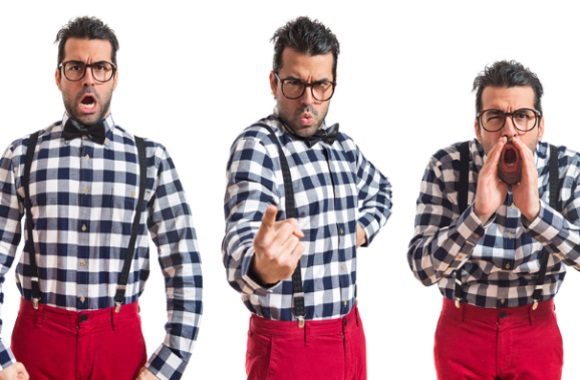 OPINION: Cancel culture takes over campus
As students started this fall semester at Georgetown University, hope and opportunity filled the air, but a pair of incidents over the last two months has shown that one wrong step can halt a student's bright-eyed idealism faster than you can say "cancelled."
Before the new school year had even begun, a tone-deaf joke set the campus ablaze. In early August, in a large group message for incoming students, a few freshmen humorously noted that it was unfair the infamous Georgetown rats scurrying all across campus don't have to pay tuition.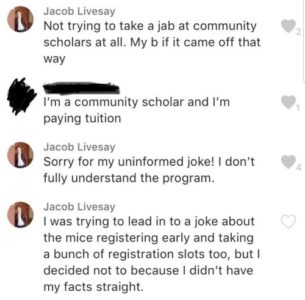 In a foolish attempt at humor, freshman Jacob Livesay suggested they must be "Community Scholars," a marquee scholarship program he had likely heard of but knew little about, as he later admitted.
Perhaps he thought his peers would befriend him if he was funny, or a few "likes" could ease the nerves of starting at a new school. No. He was thrown into the Lion's Den. He had compared low-income students to vermin, clearly calling for their extermination, as many of his critics claimed. Himself the son of an Oklahoma UPS driver and receiving financial aid to stay on the Hilltop, Livesay noted his sincere appreciation for the program — properly understood — in an official statement following many apologies.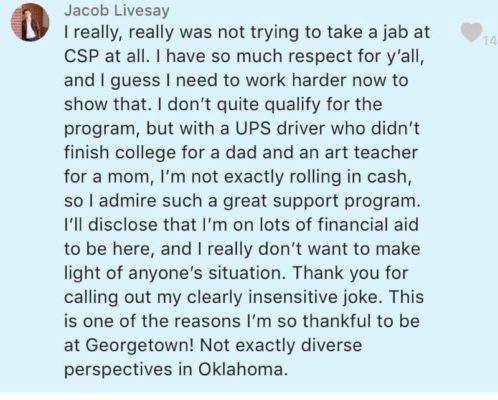 None of this mattered to the mob.
PLS READ: I am beyond disgusted by the blatant classism and bigotry that this incoming Georgetown student, Jacob Livesay, is so comfortable with putting on display. Coming from a place of humor or not, his words carry an impact among scholars of all years, including myself. pic.twitter.com/G4DQIdvqwA

— Dee (@AraLovein) August 7, 2019
He entered his freshman year with numerous calls for his expulsion, and a figurative "bigot" sign stuck on his back. No amount of apologies would convince the far left that he was not a racist tool of white supremacy, blinded by his own privilege. He was cancelled.
Miraculously, Georgetown went a month and a half without having to "cancel" another fellow student, but the guardians of progressivism demanded a sacrifice.
Enter a recent College Republicans event aimed at challenging climate change alarmism, where raucous protestors shrieked over conservative speakers relentlessly and ignored 42 requests from the police to leave, forcing officers to evacuate the entire room.
In response, junior Jack Wagner facetiously asked in a conservative group message "Can we call ICE on them," to which another student continued the joke, saying "nah, it's melting … climate change bro."
To the campus call-out culture, this was unacceptable. It was not a joke, but a directed attempt to bring violence on the protestors – at least in their eyes.
PLEASE READ: Again? Jack Wagner, abhorrently threatened calling ICE on outspoken students of color. I know I'm not speaking for myself when I say I am tired and disappointed to see that people like this persistently want to deny well-being and belonging to fellow Hoyas. pic.twitter.com/XgU7FpnvuP

— Dee (@AraLovein) September 20, 2019
"His words are embedded in racism and white supremacy, and has ultimately created an unsafe environment for students at Georgetown University," read a statement from Hoyas for Immigrant Rights, a campus activist group.
The statement also slanderously asserted that ICE is a terrorist organization, implicating Jack as their ally. According to the left's "cancel" standards, Jack's private joke, not their public and direct terrorist label, "created an unsafe environment for students."
As of September 26, 255 students, dozens of faculty, and 20 campus organizations have co-signed their agreement to the statement, most notably the Georgetown University Student Association and a freshman named Jacob Livesay – if you can't beat them, join them.
Just like Jacob, Jack's joke was unwise, but unwise is practically synonymous with "undergraduate," so we must ask– are these standards tenable? Jack seems to think not and unlike many cancelled students, he hasn't rolled over and is currently fighting back. He released a "clarification, not an apology" this week, recognizing that his joke was in poor taste, but also that he is gearing up for potential libel and slander lawsuits.
And he probably has a decent case. For every job Jack applies to, a quick search will uncover an official condemnation of racist terrorism by his student association. He has been physically threatened online and found guilty in the extrajudicial kangaroo court of public opinion as the activists who make the most noise work to keep him isolated and unemployed.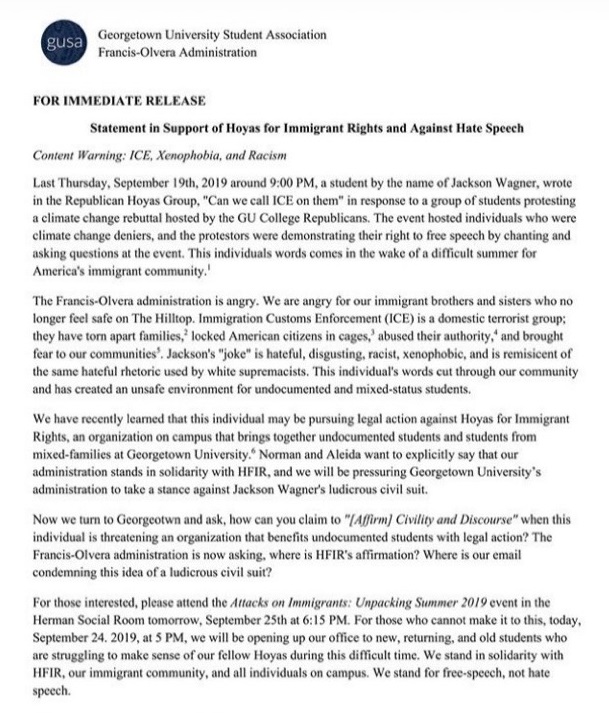 The Hoyas for Immigrant Rights statement ended by suggesting "Georgetown University must hold Jack Wagner accountable for his words," but it might as well have included "or else we will." Jack was cancelled.
These are not the rules we want, certainly not for our young, ambitious students who are prone to mistakes. We must push back against the monolithic left if we hope to preserve any functional version of free speech on campus. As free expression goes, so goes free thought. Let's stand for forgiveness and cancel "cancel culture" for good.
The views in this article do not represent those of the Department of Defense or the United States Army.
MORE: A university's 'zero tolerance policy' apparently extends to private jokes
IMAGE: Shutterstock
Like The College Fix on Facebook / Follow us on Twitter