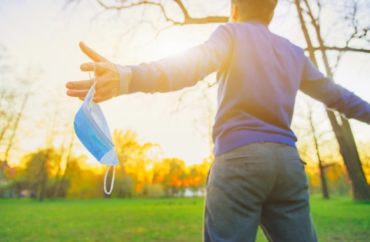 Three major Virginia universities have scrapped their COVID booster mandates — and COVID vaccine mandates in general — after the state's attorney general advised that the public institutions cannot mandate them under current law.
In guidance issued Jan. 26, Virginia's newly sworn-in Attorney General Jason Miyares stated that "absent specific authority conferred by the General Assembly, public institutions of higher education in Virginia may not require vaccination against COVID-19 as a general condition of students' enrollment or in-person attendance."
In other words, state lawmakers need to pass a law to mandate the requirement. The previous attorney general had advised that COVID vaccine mandates were in fact legal.
In response to the new legal opinion, three of Virginia's largest public colleges rescinded their COVID vaccine and booster mandates: George Mason, Virginia Tech and University of Virginia.
"Elections matter," one observer on Twitter opined regarding the development.
BREAKING: I've issued my first ever Attorney General opinion – Virginia state universities cannot mandate the COVID-19 vaccine as a condition for enrollment or in-person attendance.

Check it out here ⬇️⬇️⬇️ pic.twitter.com/dliMICczCZ

— Jason Miyares (@JasonMiyaresVA) January 28, 2022
On Dec. 31, George Mason had announced a booster shot requirement.
Updated language on the university's website crafted after the legal opinion states that "Mason strongly encourages vaccines for students and employees. … All students are strongly encouraged to be fully vaccinated and get a booster."
ABC News reports that the University of Virginia responded to the legal opinion by sending a letter to the campus community Monday noting that "'Attorney General opinions, though they do not have the force of law the way a court ruling does, nonetheless warrant careful consideration.' They wrote that 'the issue is moot for us at UVA,' because more than 99 percent of its students are already fully vaccinated, including booster shots."
However, UVA said it will not disenroll students who have not yet received their booster shot, "but will continue to encourage them to do so."
And on Monday, Virginia Tech's President Tim Sands announced:
Last week, Virginia Attorney General Jason Miyares issued a legal opinion concerning vaccine requirements that reverses the preceding attorney general's opinion upon which our vaccine policy was based. Consequently, Virginia Tech will no longer require students to be vaccinated as a condition of enrollment or in-person instruction, effective immediately. Federal regulations may still require students who work in specific settings to be vaccinated, receive the booster when eligible, and upload their health information.

We continue to encourage everyone in our community to be vaccinated, get a booster dose as soon as you're eligible, and report any updates to your vaccination status to the university.
In response to the news about George Mason University, an attorney with the New Civil Liberties Alliance, Jenin Younes, stated that campus leaders knew the mandate "would not stand up to judicial scrutiny, since it violates students' civil liberties and is not substantiated by scientific research to date."
"… NCLA hopes other universities will follow suit and recognize that booster mandates, especially for young people and those who have just recovered from COVID-19, are unconstitutional, unethical, and unsupported by the science."
IMAGE: NCAA now recognizes natural immunity for recently infected athletes
IMAGE: Sun OK / Shutterstock
Like The College Fix on Facebook / Follow us on Twitter