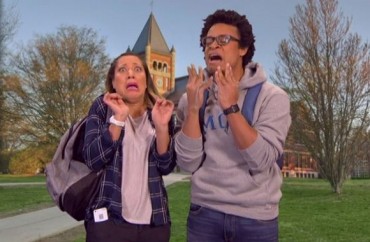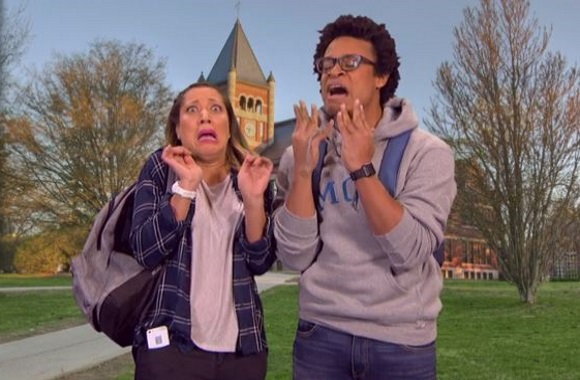 1) Culture of victimhood
It's a badge of honor to have a victim status on campus. These aggrieved students feel like virtuous martyrs as they rally against a Trump presidency. What's more, since America is increasingly secular, today's young people are raised on the religion of social justice. So to them, Donald Trump is their anti-Christ. They feel good when they protest him, it gives them a sense of purpose and meaning.
2) Brainwashed
They have been misled all their lives by the mainstream media and many of their teachers. Identity politics has completely infected and taken over rational discourse in society, in schools, in social media. Students are told at a very young age that skin color and sexual orientation matter much more than the fact that we are all Americans working together for our families and for our nation. They are told they cannot make it in their life without the government solving their problems, without the government giving them everything on a silver platter, without the government equalizing outcomes.
We see professors — caught on video — literally telling students days before the election they were "scared" of what would become of America if Trump was elected. One professor warned his class they would lose all their civil liberties and Roe v. Wade would be overturned. So after America elects a man who wants to cut taxes, who uses words like "work hard" and "rule of law," who calls on America to be the best it can be — these coddled young people freak out.
Not only that, but so many young people are told day in and day out — not just by professors but also all over their newsfeeds — that the Founding Fathers were racist, America is racist, cops are racists, colleges are institutionally racist, your friend who accidentally said something rude to you is subconsciously racist, capitalism is racist, the world is racist.
Students are fed this garbage all day everyday by people in power — professors and the leftwing media — and they believe it. Nothing is put into context. These agitators work to divide us, because that is how they continue to gain power and advance socialism in America. Theirs is the ideology of hate. So Trump, who has been called a racist over and over, he gets elected. And these young people genuinely have a nervous breakdown, as if all their fears have been confirmed.
3) Generation Snowflake
This generation has been raised by helicopter parents. They get to college and many administrators kowtow to their whims and complaints. They are not used to not getting their way. They live in an echo chamber. The campus is a safe space. Their views are never questioned. Their beliefs are never challenged. All their professors are left-wing and tell them what they want to hear.
So is it a surprise when they can't cope with Trump's victory? We have had universities host cry ins, offer coloring books, free counseling, vigils, one university emailed its campus three times in the span of five hours offering support services. Many of these emails declared: "Your pain is valid." Professors canceled classes and exams to give students time to process the election results.
These college students are treated like kindergartners — and they act like them — by throwing tantrums.
Like The College Fix on Facebook / Follow us on Twitter