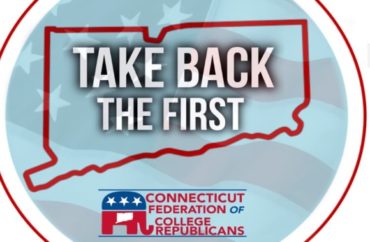 University of New Haven student Timothy Anop will never forget the day he went to class wearing a Trump shirt. He says his professor promptly berated him, telling Anop point-blank his opinions do not matter because they're conservative.
That was in 2016, and Anop has not forgotten that experience. In fact, it's part of what fuels his burgeoning effort as chairman of the Connecticut Federation of College Republicans to demand he and his like-minded peers have the right to be heard — and respected — on campus.
The federation recently rolled out an initiative called "Take Back the First" that calls on campus leaders at Connecticut's colleges and universities to add political free speech protections to their anti-discrimination policies.
"There are roughly 22 other colleges in Connecticut that do not include political ideology in their discrimination policy," Anop said. "We'll be lobbying them to hopefully amend their discrimination policy to include political ideology to make it a protected act on campus."
The federation's effort is backed by Republican lawmakers in the state to help prompt administrators to enshrine such protections.
Rep. Mike France, chairman of the state's Conservative Caucus, said in a news release it's "frightening to hear that political discussions and ideas are being throttled, especially on college campuses where freedom of speech, expression and ideas should be sacrosanct."
Added Rep. Doug Dubitsky: "No institution of higher learning should initiate, encourage or allow discrimination against students who hold political views different from the activists who seek to silence everyone who does not agree with them."
The release cites nearly a dozen state lawmakers who back the foundation's efforts. The federation recently held a press conference alongside members of the Conservative Caucus to announce their initiative.
At the event, Trinity College student Nick Engstrom described some of the hate-filled vitriol he was a recipient of last spring at the Hartford, Connecticut-based campus as he tried to get official recognition of a pro-Western Civilization Churchill Club.
As previously reported by The College Fix, flyers were circulated calling Churchill Club supporters' racists, and their faces were posted around campus with the phrase "the new racism is every bit as ugly as the old." At the time, Engstrom received what he believed to be a credible threat against him. What's more, a student who is friends with members of the Churchill Club was allegedly denied service at a campus coffeeshop because it does "not offer service to people who associate with white supremacist."
At the September press conference, Engstrom said "I was called a pasty Klansman on Instagram, and dubbed the next leader of the KKK."
"Think about it," he added. "Can you ever imagine being called that?"
During the press conference, Anop said students minds are held "hostage" on campuses and "students are forced to write essays that will please the viewpoints of their professors rather than expressing their own opinions."
Underscoring that, a nationwide online poll commissioned by College Fix in September found 73 percent of College Republicans reported they have withheld their opinions in the classroom for fear of getting a bad grade from their professors.
Anop said that sounds about right.
"I 100 percent believe it," Anop told The Fix. "That's where we see the new censorship coming in — it's not from administration directly denying clubs to be on campus or denying speakers, it's at the teacher level. They're vilifying these students, vilifying these ideas."
"So when you're a freshman in college and you see your buddy vilified in front of their peers about their way of thinking you're not going to be willing to raise your hand."
Anop said he believes these students are afraid of their professors and the repercussions, and that students need to be educated on how they can go about reporting their professors when they are harassed in class.
"There is a power dynamic that's kind of being violated," Anop said. "Students see their professors as these high up on a totem pole figures and they don't want to speak out against them and get their retaliation."
At the University of New Haven, which Anop attends, he said the administration and student government there seems helpful and open to dialogue about making the campus more open to free speech. Anop said he and other federation members feel optimistic their new initiative will take root not only at the University of New Haven but across the state.
The University of New Haven declined to comment to The College Fix.
MORE: 73 percent of Republican students have withheld political views in class for fear their grades would suffer
Like The College Fix on Facebook / Follow us on Twitter