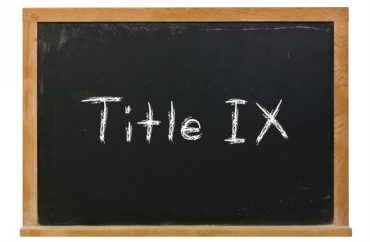 A trio of basketball players from Michigan State University were cleared of rape charges by Title IX investigators this past Wednesday.
Bailey Kowalski, who graduated from MSU this spring, came forward shortly before the end of the 2018 school year to claim she had been raped by three MSU basketball players at an off-campus party in 2015.
According to the State News, Kowalski said at a press conference last spring:
"I was only 18 years old as a freshman when I was gang-raped and no one prepares an 18 year old to go through something like that. At the time I needed help most I went to the Michigan State Counseling center where I was told during freshman orientation that I would find support. Instead I was intimidated, and I was told I was going to be dealing with some 'really big fish."'
Kowalski indicated that last phrase was the main catalyst for her decision not to file a police report. She said the players would "have the university's backing" and "better lawyers." Her use of a fake ID the night in question also played a role in the decision, according to ESPN.com
The attorney for one of the accused players says the fact that the investigation found his client not culpable demonstrates how unbelievable Kowalski's story was: "The burden of proof is so low in these kind of cases for a complainant to prevail," he said. "They just have to believe one side a little more than the other side. They couldn't even meet that low threshold."
The 39-page report concluded that a "preponderance of the evidence" did not support that the three players Kowalski originally named had violated university sexual misconduct policy. It did not list a finding for the other player.

The two players who acknowledged they were at the apartment told investigators that Kowalski willingly had oral and vaginal sex with them and verbally agreed to have a threesome, according to the report. Kowalski told the investigator she was forcibly pushed down on the bed on her stomach and was unable to move and cried and said "no" while the men sexually assaulted her.

The report states that one of the players said he and his teammate had "threesomes this way with women before and would never want anyone to do anything they did not want to do," and that being an athlete at MSU is a "slippery slope" so he is cautious and "always asks for consent."

Kowalski told the investigator she felt like she had been drugged, and had trouble manipulating her fingers on a laptop to choose a song earlier in the evening. But in part, the report states that because she was able to remember details of what happened during the assault, it's unlikely she was as incapacitated as she described.
A woman named Andrea Bender told the ESPN program "Outside the Lines" that one of the players accused by Kowalski had once "pulled [her] into a room and grabbed her to get on top of him." She also said that another from the accused trio had raped her in 2015.
Her story was "discounted" by the Title IX investigator.
Kowalski said she plans to "continue to push her case."
Read the ESPN.com and State News stories.
MORE: MSU ruined Keith Mumphery's NFL career with a false rape finding
MORE: MSU atoned for Nassar scandal by punishing male sexually assaulted by female
IMAGE: CLS Digital Arts / Shutterstock.com
Like The College Fix on Facebook / Follow us on Twitter