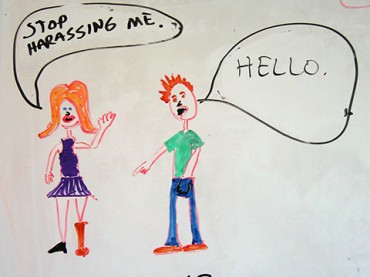 ANALYSIS
Students at the University of Kansas may soon be able to play "sexually suggestive music" without running afoul of the school's harassment code.
The Sexual Assault Task Force, convened last fall by Chancellor Bernadette Gray-Little, released 27 recommendations Friday for revising policies around sexual violence, included the "suggestive" tweak.
While the report suggests clarifying and revising some definitions related to sexual violence – especially those that seem prudish by modern standards – it still leaves many broad definitions untouched.
Under "Recommendations for Policy and Process Improvement," the task force recommends clarifying the definition of "incapacitation" in order to differentiate between "wrongful" and "permissible" conduct.
A university spokeswoman told The College Fix by email that the school defines incapacitation as an "inability to make informed, rational judgments."
When substances are involved, "incapacitation" refers to how "alcohol or drugs consumed" can affect decision-making, including consequences and judgments, the spokeswoman said, responding on behalf of the Office of Institutional Opportunity and Access.
That definition, as loose as it is, does not appear to be in materials made available to students.
The Office of Institutional Opportunity and Access uses "incapacitation" as part of its multifaceted definition of sexual violence: "Taking sexual advantage of another person without consent, including causing or attempting to cause the incapacitation of another person."
That could conceivably result in punishment for a student who was found to have bought multiple alcoholic drinks for an intended sex partner.
Unintended consequences?
Kansas is far from the only university with a vague understanding of "incapacitation": The University of Arizona's recent sexual assault survey used the term in relation to "drugs or alcohol" without defining it.
Brandeis University is also being sued for punishing a gay student for sexual assault, judging that by awaking his then-boyfriend with a kiss, the student took sexual advantage of his partner's "incapacitation."
At least one other school has realized its harassment definitions are having unintended consequences.
The faculty council at the University of North Carolina-Chapel Hill recently voted to repeal a prohibition on "disruptive of intimidating behavior" that "interferes" with another person, as the Foundation for Individual Rights in Education noted last week.
The policy had been used against a UNC student who complained about how the school handled her sexual-assault allegations.
Finally, you can make your own porn
The Kansas task force also acknowledges the vagueness in defining coercion as "unreasonable pressure for sexual access" because it does not distinguish between "coercive" versus "non-coercive sexual conduct."
Fans of voyeurism and dorm-made porn could get a reprieve as well. The task force recommends dropping these "objectionable" practices as examples of assault: "capturing or transmitting intimate or sexual utterances, sounds or images of another person" and "allowing third parties to observe sexual acts."
Finally, the task force suggests narrowing what qualifies as harassment. Currently the university defines stalking as "a course of conduct directed at a specific person that is unwelcome and would cause a reasonable person to feel fear," which the task force calls "very broad."
Even basic flirting could be perceived as sexual harassment under the university's current definitions.
The Office of Institutional Opportunity and Access uses the word "unwelcome" several times to describe prohibited behavior: One of those is "unwelcome efforts to develop a romantic or sexual relationship" or "unwelcome physical touching or closeness."
Under such broad definitions, simply asking someone out more than once or standing close to someone could be considered sexual harassment.
Questions about sexual history not allowed?
Several other vague examples of harassment in university materials escaped the attention of the task force.
The Office of Institutional Opportunity and Access implies that even talking about sex – such as an intended partner's sexual history or a friend's sexual orientation – could be a form of harassment, since sharing "lewd jokes" or "sexual anecdotes" are given as examples.
This warning runs counter to the student health center website, which links to a sexual-health website targeting college students that recommends students ask about an intended partner's sexual history.
The office also appears to make routine gossip punishable: "Distributing intimate or sexual information about another person" qualifies as harassment, even if it's discussing last night's hookup with a friend.
A student handout provides more curious examples. When a student declines a professor's invitation to dinner to talk about his performance in class, but then the professor "always refuses to meet" the student during office hours, the student has been sexually harassed.
The task force did not respond to requests for comment about the recommendations. Chancellor Gray-Little has only said the report would "inform our continuing work" on sexual violence.
College Fix reporter Matt Lamb is a student at Loyola University-Chicago.
Like The College Fix on Facebook / Follow us on Twitter
IMAGE: Jeff C/Flickr