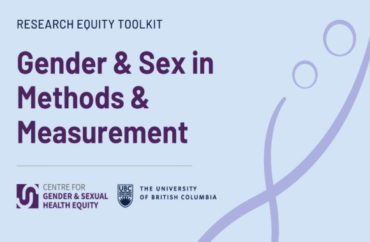 Spurred in part by a supposed insufficient amount of published data on monkeypox in people other than men who have sex with men during the 2022 monkeypox outbreak, a group of researchers sought to fill this gap with a report they published in the prestigious medical journal The Lancet.
However, according to the demographic data presented, nearly half of their participants were trans women, most of whom had recently had sex with men and many of whom, the authors implied, still had penises.
As nonsensical as this may seem, if a group of scholars and community members associated with the University of British Columbia's Centre for Gender & Sexual Health Equity get their way, studies such as this may become the norm.
Led by UBC postdoctoral fellow A. J. Lowik, the health equity group developed a toolkit to help address "the pervasive erasure in research of people who are marginalized and minoritized on the basis of their genders, sexes and sexualities."
Known as the "Gender & Sex in Methods & Measurement Toolkit," it seeks to help ensure people who are "intersex, trans, nonbinary and Two-Spirit people, among others," are included in research studies.
The toolkit, published in 2022, amounts to more than 60 pages of guidelines that spell out how researchers should alter their eligibility criteria, recruitment strategies, sample size requirements and survey designs to be more inclusive.
For example, the toolkit suggests that researchers who wish to study "women's experiences of sexual violence while in jail and prison" should include men who may have experienced sexual violence in a women's jail or prison in their sample.
The College Fix recently reached out to both the University of British Columbia and the Centre for Gender & Sexual Health Equity for comment, but did not receive a response.
Other "inclusive" suggestions presented in the toolkit call on researchers studying menstrual suppression strategies in teenage girls to focus on the menstrual suppression strategies of teenagers in general. Researchers interested in studying the self-care practices of new fathers should study the self care practices of all new parents.
As presented by the developers of the toolkit, the guidelines are intended to benefit both marginalized communities, as well as researchers, by making research more inclusive, accurate, and precise, as well as less harmful to minority and minoritized populations.
"These toolkits aim to create best practice guidelines for researchers—from trainees to senior scholars—for building more equitable, reflective and inclusive research," the toolkit developers state.
"Acknowledging that sex and gender are frequently conflated and confused in research," they note, "these practice guidelines will equip researchers with the skills to determine whether sex assignment at birth, legal sex, current embodiment and/or gender identity are the variables of interest for their project."
While the authors emphasize the importance of including sex and gender minorities in research, especially when studying questions related to sex or gender, they also acknowledge that even in aggregate, the number of trans, non-binary, and other people of minority sexes and genders necessary to make a researcher's sample representative of the population of a country such as Canada would often be too small to provide meaningful insights about those minority groups.
Therefore, they argue, oversampling of those subpopulations might be necessary.
In a hypothetical example presented by the authors, a PhD candidate who is comparing the sexualized drug use of different genders, but fails to recruit a sufficient number of nonbinary people to make that group comparable to the cis men, cis women, trans men, and trans women in her study, should acknowledge this as a limitation and pursue a follow-up project that oversamples nonbinary people with diverse sexualities in order to right this wrong.
The toolkit also emphasizes honoring the chosen identities of participants unless there is a clear reason for doing otherwise, and making research participation as inclusive as possible, sometimes to the point of redefining research questions in a manner that removes considerations of sex, gender, and sexuality from a project entirely.
At present the toolkit does not appear to have yet been adopted as formal policy at UBC or any other institution.
However, in a cultural and academic landscape where some science educators see biology as a vehicle for furthering gender activism, and prestigious scientific journals are advising editors to avoid publishing research that may result in indirect harm to vulnerable groups, the guidance may be reflective of the direction in which some scientific and biomedical research is going.
MORE: Nature journal defends decision to avoid scientific research that causes 'harm'
IMAGE: University of British Columbia
Like The College Fix on Facebook / Follow us on Twitter