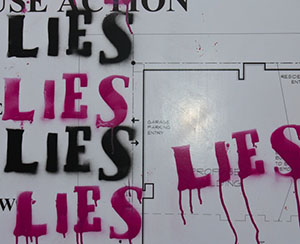 Republican Sen. Lamar Alexander, the chairman of the committee that handles education policy, wrote a Wall Street Journal op-ed this week saying it's a "myth" that college isn't affordable for the average student.
One of the statistics he deployed claims that college grads earn $1 million more on average over their lifetime than non-grads.
That's an incredibly misleading figure, according to two education policy experts who blast Alexander for enticing students down a new rabbit hole of debt and failure.
George Leef, research director at the Pope Center for Higher Education Policy, writes at National Review that the $1-million figure belongs in the "Hall of Fame for Misleading Statistics":
How much, on average, people who received college degrees in the past earn compared with those who did not doesn't have the slightest bearing on an individual who is today trying to decide whether going to college makes sense. … The simple truth is that we already have an enormous glut of people in the labor force who have college credentials (if not necessarily college educations) and many of them can only find work that could be done by high school students. …

Politicians should stop using that million dollar figure. They should stop talking about any college "premium" at all because the costs —even with all the subsidies — exceed the benefits for many.
Jane Shaw, the recently retired president of the Pope Center, piles on Alexander for "other arrogant and economically ignorant statements" in his op-ed.
Writing in National Review, Shaw says the $27,000 "average" debt leaves out the 40 percent of students who don't graduate in six years, and she accuses Alexander of lowballing the cost of private schools by about a quarter in leaving out living expenses:
What bothers me the most, though, is Alexander's complacency. For example, he wants more Pell grants, not fewer, blithely ignoring the problems that range from "Pell-running" to the mission creep that has led to nearly 60 percent of all students getting Pells now. He apparently approves of the 10 per cent payback plan (you can pay 10 percent of your loan per year and be forgiven after 20 years), which spurs dependency and moral hazard.
Alexander is "apparently eager to continue filling the coffers of colleges and universities at other Americans' (including students') expense," she says.
Like The College Fix on Facebook / Follow us on Twitter
IMAGE: Jesse Means/Flickr