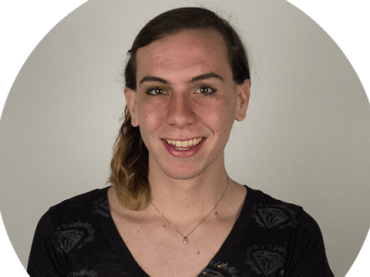 This is a stunning development: The "trans femme" candidate in University of Oregon student elections who threw a hissy fit over a perceived act of "misgendering" is now trying to blow up the separation of powers in student government.
The Daily Emerald reports that a student group that includes losing candidate Elle Mallon plans to submit a letter to the school's Office of Affirmative Action. It circulated the letter among representatives at Wednesday's Senate meeting.
Mallon and other "concerned student leaders" are angry that the Constitution Court removed sanctions against a competing political party for hosting its election kickoff event in a building without a "gender-inclusive" restroom. Mallon had filed the "motion for clarification" in the wake of that ruling:
The court said that Article 2.4 should not be interpreted to mean that incidental-fee funded events can't host events in facilities that do not have gender-inclusive bathrooms. According to the the decision,  "Such an interpretation would prohibit incidental fee-funded organizations from hosting events in a sizable amount of the facilities currently already available to them."
According to the letter from Mallon and others, that means trans students "may be de-facto excluded from events because it is too much hardship to schedule an event or meeting in one of the 39+ buildings on campus with gender-inclusive bathrooms."
These "concerned student leaders" want a Title IX officer in the Office of Affirmative Action to investigate the court's ruling, and judge whether "it is necessary that we pursue disciplinary action against the justices that created and enacted this discriminatory policy to protect ourselves from the legal liability of [the court's decision]."
"Disciplinary action against the justices." That is a direct attack on another branch of student government for simply interpreting the student government's constitution.
Elle Mallon already tried twice to get xe/xem/hyr/they/them/their election opponents disqualified for bullshit grievances.
It should be blindingly obvious to senators at this point that Mallon is a raving lunatic who will stop at nothing to drag down anyone who gets in xe/xem/hyr/they/them/their way.
Like The College Fix on Facebook / Follow us on Twitter
IMAGE: University of Oregon