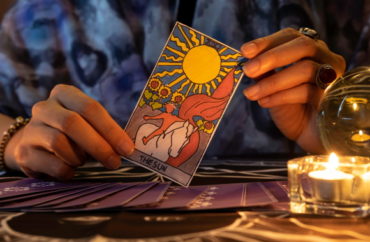 From offering them as part of Halloween festivities to presenting them as a pathway to enlightenment, there is no shortage of tarot card readings at colleges and universities right now.
Psychic tarot readings are used for divination and fortune telling, according to PsychicSource.com, which notes "a reader uses the cards to uncover patterns, energies, and trends that can help interpret your present situation and predict future occurrences."
The Guardian, in a recent article headlined "When the mystical goes mainstream: how tarot became a self-care phenomenon," reports tarot readings enjoy a "mainstream resurgence in recent years" thanks to their popularity on social media platforms, a wide availability of online readings, and a growing acceptance of New Age beliefs.
That trend is on display on campus. For one, as part of Halloween festivities this year.
Amherst College included the cards as part of its "Spooktacular Game Night." St. Cloud State University offered readings in its "Haunted Maze." Dixie State University's "Chaos" Halloween party boasted both tarot readings and a fortune teller. A Greek Life Halloween Party at Kenyon College advertised its tarot readings as a way to "explore your creative and spiritual sides."
But Halloween is not required to offer such services.
An apartment complex serving California University of Pennsylvania has rolled out "Tarot Tuesday" card readings. Hawaii Pacific University's Campus Activities Board offered them as "beneficial and insightful," but did warn students "all psychic readings are for entertainment purposes only."
At least one university — Emory — included tarot readings this year as part of its homecoming celebrations. Over at Brandeis University, students use tarot cards as one of several ways to process romantic breakups, along with enneagrams and astrology.
Earlier this year, Evergreen State University's "Office of Spirituality & Meaning Making" debuted a daily tarot card reading. The email announcing the readings explained they would offer "insight and practices" for students.
Even the Humanities Center at DePaul University, a Catholic institution, is hosting an event titled "The Tarot: Clarifying the Past, Present, and Future." Its online description asks: "How might art be a way in which we can accomplish our timely goals? How do human practices, steeped in tradition, point to possible answers as well?"
ALERT: Check out our Campus Cancel Culture Database
IMAGE:  Vimolsiris / Shutterstock
Like The College Fix on Facebook / Follow us on Twitter