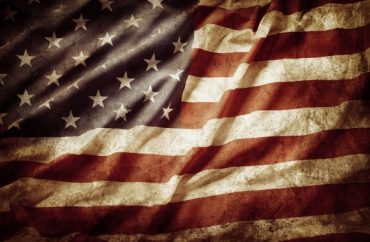 Reports of American flags being vandalized by college students on or near Veterans Day and primarly in response to Donald Trump's election as president continue to emerge.
Brown University (via The Washington Post):
American flags flying for a Veterans Day ceremony at Brown University were snapped in half, torn up and thrown away, according to a veteran who watched it happen and another student who videotaped what he saw happening and posted it online.

That prompted other students to counterprotest, according to the campus newspaper, the Brown Daily Herald, with a senior upset by the actions organizing a group to sit on the school's green to protect the remaining flags. And it opened an intense debate about the meaning of patriotism and sacrifice on the Ivy League campus in the days after a divisive election, with some students saying in online debates that it's hard to love a country that has committed atrocities and oppressed minorities.
St. Mary's College of Maryland (via Southern Maryland News Net):
Statement by Tuajuanda Jordan, President of St. Mary's College of Maryland: 'The US flag that flies from the flagpole in front of the St. Mary's City Post Office was found shredded and flying at half-staff on the flagpole on Thursday morning by a resident of the County. We have determined that this act was done by some St. Mary's College students.'

'The desecration of the Flag, although appalling to many, is not a crime. It is an act of protest, a form of free speech, which is protected by the First Amendment to the US Constitution. However, vandalism is a form of protest that we cannot tolerate in our community. Acts of destruction – against people and things – do not move communities forward.'
American University (via The College Fix):
Accompanied by some shouts of "F*** white America," a group of American University students torched American flags as the election of Donald Trump continues to cause paroxysms of rage at campuses nationwide.

"This is a representation of America! We are going down in flames!" one student yelled as she lit a flag aflame.

According to the Washington Post, some counter-protesters challenged the activists by shouting "USA! USA!" but were screamed at "with mocking profanity" in response.
Hampshire College (via MassLive):
Discontent with the election of Donald J. Trump to the White House continued in the Pioneer Valley overnight Thursday, with the burning of an American flag flying at Hampshire College.

According to a message sent to the Hampshire College community from college secretary Beth Ward, officials arriving at the campus Friday morning discovered the flag was burned overnight. As a result, Ward wrote, "veterans and others in our community will come to campus to find the flagpole empty."
Wesleyan University (via The College Fix):
Wesleyan University students honored America's veterans Friday by defacing the American flag rather than burning it. …

As Wesleyan protesters marched from one side of the campus to another on Friday, Yael Horowitz and Abby Cunniff stopped to make a visual protest, The Wesleyan Argus reported. One held up a large American flag, while the other pulled out a can of spray paint and sprayed "AmeriKKKa" on it.
MORE: UCLA students step on U.S. flag in protest of Bruin Republicans event
MORE: Campus vandals trash U.S. flags memorializing 9/11 deaths
MORE: Professor rips down campus 9/11 'Never Forget' posters
Like The College Fix on Facebook / Follow us on Twitter