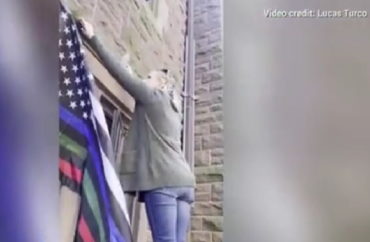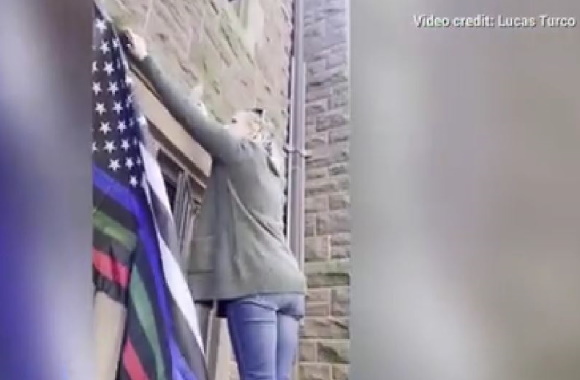 Trinity College recently removed two patriotic flags that two students had hung outside their dorm window after receiving complaints the display was offensive.
Roommates Finn McCole and Lucas Turco told Fox News that, adding insult to injury, school officials left up pro-LGBTQ flags hanging out of other students' dorm windows while taking down their traditional red, white and blue U.S. flag with "Don't Tread on Me" Gadsden imagery on it and their black and white American flag with blue, green and red stripes honoring those who serve in public safety.
The flags were reportedly put up Oct. 26 and removed the next day. Videos and pictures shared with Fox News corroborate the students' story. A campus official said school rules disallow items to be hung from dorm windows and eventually the college told all students in a campus-wide email to remove dorm window displays.
"This event has highlighted the need for more consistent enforcement of handbook rules, and the college is working with the student body to create awareness and compliance," a spokesperson wrote in an email to Fox News. "The dean of student life is addressing the issue with the entire student body to ensure compliance with the handbook and has reiterated the rule to the student body in a communication this week. The dean's office will directly work with students for more consistent enforcement."
McCole and Turco told Fox News that when they spoke to administrators, the campus leaders "allegedly told them it was because the campus was receiving complaints that the flags were offensive."
The issue was first reported on by Libs of TikTok, which published a video of an unnamed school official removing the patriotic flags at the behest of a dean. The activist Twitter account also noted other pro-LGBTQ flags that had not been immediately removed at Trinity College.
.@TrinityCollege forcibly removed a student's "don't tread on me" American Flag and a red, blue, and green line flag. Meanwhile pride flags are allowed to stay hanging. pic.twitter.com/AG892oaRyv

— Libs of TikTok (@libsoftiktok) October 31, 2022
The two students also told Fox News they did not receive a request to remove their flags before the college official took them down, despite what the official is heard saying in the video.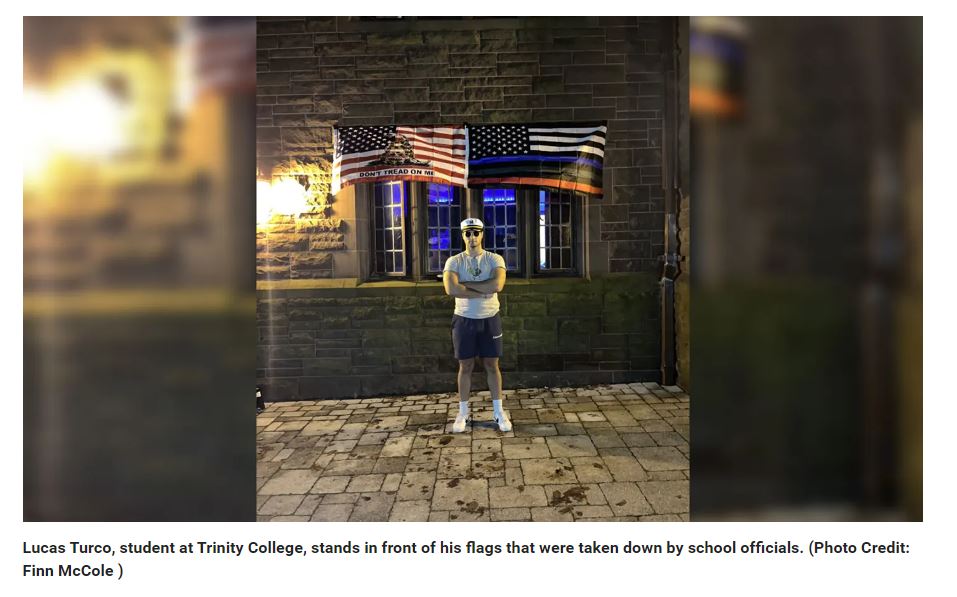 The controversy caught the attention of the Foundation for Individual Rights and Expression, which wrote a letter to the college criticizing it for viewpoint discrimination.
"In our letter to Trinity today, we remind the college that — while private and not bound by the First Amendment to protect student expression — it voluntarily promises students 'free inquiry and free expression' and says it is committed to 'free speech, academic freedom, diversity of thought, and mutual respect.' That means it cannot discriminate against certain viewpoints because some people find them offensive or unfavorable," FIRE reported Nov. 1.
Weighing in on the incident at National Review, Bobby Miller argued "Progressives who support this kind of blatant censorship and then ask why so many people have lost faith in elite institutions are engaging in the height of gaslighting."
"When freedom of speech is treated like a privilege granted to a select few rather than a right we are all endowed with, doubts about the system's impartiality are sown. Is it any wonder why so many are champing at the bit to tear it all down?"
As for McCole and Turco, they told Fox News that reaction on campus has been mixed.
"On campus there are many students who have commended us for our bravery and support the message we are fighting for. The only real backlash we have gotten has come from the anonymous social media app Yik Yak," Turco said. "I suppose some students feel more confident speaking anonymously behind a screen."
MORE: Protests, racial unrest engulf Trinity College over students' pro-Western Civ Churchill Club
Like The College Fix on Facebook / Follow us on Twitter