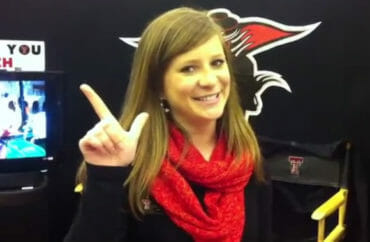 'I'm just really dumb'
Word of advice for air travelers who don't want to waste their time any further: Don't make hand gestures while waiting in line.
A Texas Tech sorority member nonchalantly made the school's signature hand gesture – a "finger gun" – when she saw a fellow Tech student waiting to go through screening. That's when the Transportation Security Administration sprung into action.
Diana Durkin, a Houston native returning to school after taking a semester off to help her hurricane-hit family, told BuzzFeed News that an agent pulled her out of line and informed her she can't make the shape of a gun with her fingers in an airport:
She says she was terrified, thinking to herself, "Oh my gosh, they think I'm a terrorist," and, "Oh my gosh I'm going to jail."

"I'm just sitting there, almost in tears, like, 'No, I'm just really dumb, I'm not a terrorist!'"
She went through a full screening and patdown, but said she was eventually let go after promising to never attempt finger-based bonding with fellow Red Raiders at the airport.
In the airport security line and I see someone wearing a Texas Tech hoodie and I look at them and do the gun hand signal because wreck em amiright

tsa is now pulling me aside to talk to me :((

— diana (@dianadurkin) January 6, 2018
The "guns up" salute (preceded by the phrase "wreck 'em") is how students and alumni greet each other and how they celebrate victory, according to the university:
The sign can be traced back to L. Glenn Dippel, a 1961 alumnus of Texas Tech. He and his wife Roxie were living in Austin and faced the daily presence of the "Hook 'em Horns" hand sign used by University of Texas fans. So, the Dippels decided to retaliate. They looked to mascot Raider Red and his raised guns for their inspiration and in 1971 developed the Guns Up hand symbol. The Saddle Tramps and Texas Tech cheerleaders immediately adopted Guns Up and a new tradition was born.
Read about her ordeal and the history of "guns up."
h/t Fox News
IMAGE: Troy Tarpley/YouTube
Like The College Fix on Facebook / Follow us on Twitter