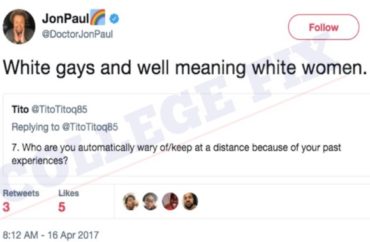 Just a few days after The College Fix broke the news that some LGBTQ students at the Claremont Colleges were concerned about several public statements made by the recently selected director of the consortium's Queer Resource Center, a campus official has announced the colleges have reopened the search for that position.
In late June, officials at the Claremont Colleges emailed students to inform them they had selected Dr. Jonathan Higgins as the center's new director. But soon after, some of his tweets that students deemed anti-white and anti-police circulated and prompted alarm.
The Claremont Independent, which also reported on the tweets, noted in an article Sunday that "soon after both reports, Dean Jan Collins-Eaglin, the Pomona College dean who had originally shared the news of Dr. Higgins's appointment, announced that the college would be seeking a new QRC director in an email sent to all students on Saturday afternoon."
The email does not address the controversy or comment on why Higgins was apparently de-selected.
"I am writing today to let you know that we have reopened the national search for the Director of the Queer Resource Center. Our priorities for the QRC remain the same – to maintain in a seamless fashion the robust services of the Center, including its ability to provide direct support to students, expertise in workshops and trainings, and an inclusive space focused on student success and support, with a demonstrated commitment to diversity and community," the email states in part.
Like The College Fix on Facebook / Follow us on Twitter
Like The College Fix on Facebook / Follow us on Twitter