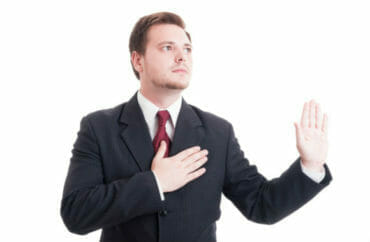 Lawyers have an 'obligation to promote equality, diversity and inclusion'
The lawyer hired by Canada's Wilfrid Laurier University to investigate a classroom incident involving gender-neutral pronouns has publicly taken sides on an issue related to the investigation.
Rob Centa, managing partner at Paliare Roland, has frequently tweeted about diversity and inclusion in law from his professional account, including his support for a controversial new requirement for lawyers that critics characterize as "forced speech."
The Law Society of Upper Canada licenses lawyers and paralegals in Ontario, where WLU is based. It started reminding legal professionals in September to submit a "Statement of Principles" confirming their "obligation to promote equality, diversity and inclusion," and rejected a proposed exemption for "conscientious objectors" earlier this month.
The intention of the change is to "address the barriers faced by racialized licensees," which is the society's term for nonwhite legal professionals.
The regulator encourages striving for "substantive equality," which "does not always require treating all people the same." To reiterate, it says: "Equality does not mean treating all people the same for all purposes."
Queen's University Law Prof. Bruce Pardy, a member of the Ontario society, warned in October that the new rules violated freedom of expression, protected by Canada's Charter of Rights and Freedoms.
"Had this requirement been imposed upon another of the governed professions … they would hire a lawyer to protect their right to think and speak for themselves," Pardy wrote in the National Post. "This time, it is the lawyers themselves whose ability to argue about the law's propriety is threatened."
MORE: Student investigated for gender-neutral pronoun debate may lose job
It's not 'political speech'
When WLU graduate student Lindsay Shepherd showed her undergraduate communications class a TV debate on gender-neutral pronouns, the campus LGBT center filed an informal complaint on behalf of an offended student.
Shepherd's exposure of students to the view that they didn't have to use gender-neutral pronouns when asked – a form of compelled speech – could violate the campus "gendered and sexual violence policy" by "spreading transphobia," a diversity officer staffer told her.
Investigator Centa was hired to investigate both the classroom incident and Shepherd's subsequent meeting with two professors and the diversity staffer, where she was also told that her pedagogy violated Canada's gender-identity law C-16.
Centa has said his review is "employment-related" but has not specified whether Shepherd is under investigation for violating the gendered and sexual violence policy.
The lawyer, who publicly identifies his law firm in his Twiter profile, seems to support the movement toward compelled speech in the name of diversity, judging by several tweets between late October and November.
Three days before WLU announced Centa would lead the "fact-finding" on the Shepherd incident, he tweeted an article that quoted colleague Tina Lie defending the Ontario society's new rules, saying he was "proud" of her.
MORE: 'I wonder if my mere presence is simply too triggering now'
"People seem to consider the promotion of equality, diversity and inclusion as being an issue of political belief or political speech. I don't see it that way," Lie said. "If we want to improve the administration of justice, we absolutely need to advance the diversity goal that the law society has put out there."
Centa said he was "proud" of Lie days earlier when she was speaking about "advancing diversity" at a Federation of Asian Canadian Lawyers event – also sponsored by their law firm.
He also retweeted colleague Denise Cooney, who characterized the new society rules as promoting "humility, discussion and compassion." She shared an article that denied the new rules were "compelled speech" but said Canadian lawyers "do not have the freedom to remain silent" about diversity.
MORE: Canadian court rebukes law society for anti-Christian bigotry
Even in tweets about his life outside work, Centa promoted the idea that diversity was not optional.
He quoted a jazz musician who told his audience "Diversity should not be tolerated, it should be celebrated," and said he was "proud" of the Golden State Warriors for hosting an LGBTQ night at their contest with the Toronto Raptors.
Centa did not respond to inquiries by The College Fix regarding his views on the intersection of diversity and speech on college campuses. The WLU administration also did not respond to Fix inquiries on Centa's objectivity and position on freedom of expression.
MORE: WLU regrets telling TA she broke law by showing a debate
Support for LGBTQ community is 'resolute and unshakable'
Under heavy pressure from the campus LGBTQ community to acknowledge threats to transgender students in the wake of the Shepherd controversy, WLU President Deborah MacLatchy released a "message of support for LGBTQ2 community" last week. (The "2" apparently refers to "two-spirited" individuals and is common parlance in Canada.)
In the statement, MacLatchy promises to keep its campuses "welcoming and engaging places for all people and all identities" and says it has "created and communicated additional supports" and "added measures to improve campus safety."
"There is no place at Laurier for bigotry, discrimination, intolerance or marginalization," MacLatchy wrote: "Laurier's support for our LGBTQ2 campus community is resolute and unshakable."
The administration also did not respond to multiple email and phone inquiries from The Fix regarding the new support and safety measures to protect students.
MORE: Professor bans laptops to prevent Shepherd from recording her
MORE: University that upholds biblical sex beats accreditation challenge
IMAGE: Pop Paul-Catalin
Like The College Fix on Facebook / Follow us on Twitter