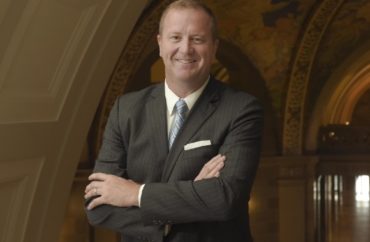 'Brazen attack on academic freedom,' PEN America says
Two groups that purport to support free expression and the First Amendment have come out against a request from a state attorney general for copies of emails sent by professors at the taxpayer-supported University of Missouri.
Attorney General Eric Schmitt filed a public records request for copies of emails sent from two Mizzou journalism professors to some employees of PolitiFact, which has a partnership with the state university. The request, first filed in June, was first reported by the J-school's Columbia Missourian in September after it found the application while working on an unrelated project. Schmitt wants emails from the Missourian in addition to Mike Jenner and Tom Warhover, two professors at Mizzou.
This has caused an uproar from the Students Press Law Center and PEN America, both groups which claim they defend the First Amendment.
"Attorney General Schmitt's request for the emails of two journalism professors appears to be little more than an effort to intimidate and silence both university faculty and the professional journalists with whom they correspond," PEN America's Jeremy Young said. "No government official should request copies of a faculty member's emails unless there is clear evidence of malfeasance."
Young demanded that Schmitt (pictured) rescind his request for emails sent by taxpayer-funded professors using their public university email addresses because it will "violate the academic freedom of faculty and chill the speech of journalists."
MORE: Ohio State board resolutions affirms free speech rights
"There are some real concerns when it comes to revealing the work product of journalists," Student Press Law Center's attorney Mike Hiestand told the Missourian. "I think this raises some serious legal questions."
Both groups are being unreasonable.
There are no issues with a government official requesting the public emails of other government officials.
Private citizen Eric Schmitt could file a public records request for those emails. Journalism professors are provided emails through a university paid for by taxpayers. If they are using those email addresses to conduct business, then it must be relevant (or should be) to their jobs as journalism professors. Public university professors ultimately serve at the behest of the citizens of the state and their elected and appointed officials.
The executive director of PolitiFact, named in the sunshine request, does not have a problem with Schmitt's inquiry.
"We don't use off-the-record information, and we publish a list of sources with each story," executive director Aaron Sharockman told the Missourian. "Our methods and reporting are transparent, and we'd be happy to sit down with the attorney general at any time to discuss our work, or his ideas for continued accountability journalism."
MORE: Bloomberg believes higher ed is just overflowing with open debate
IMAGE: Missouri Attorney General office
Like The College Fix on Facebook / Follow us on Twitter