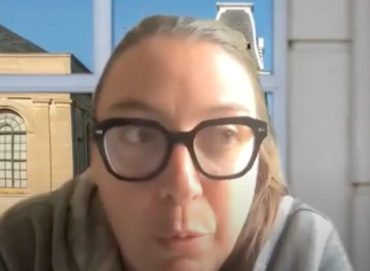 The director of the University of Arkansas gender studies program recently said in an interview that white people need to "reregulate" themselves so as not to commit further violence.
Part of the remedy, Professor Lisa Corrigan says, is "think[ing] about the 'dysregulation' of white people as what produces [this] violence."
"Dysregulation" is defined as "a poor ability to manage emotional responses or to keep them within an acceptable range of typical emotional reactions."
"When white people are whole," Corrigan continues, "they don't go out lynching people. When they feel whole, instead of rage, they are not out, y'know, shooting up schools." A method has to be discovered to "reregulate" white folk, she says, and the burden is on whites themselves to do just that.
Podcast host Stephen Hintz, a white guy who seems to enjoy using an African-American-tinged accent when speaking, nods approvingly throughout, saying "mm-hm" on and off. He describes his podcast as "white people talking white racial constructs, the elimination of anti-blackness and reconnecting with the global majority."
ALERT: Check out our new Campus Cancel Culture Database!
When Corrigan is teed up by Hintz about her "journey" with whiteness (mere seconds before Hintz claimed it is hard to argue with the Nation of Islam's Louis Farrakhan when you really examine what he says), she says "there's no shortage of racist stuff producing segregation and violence." She claims public education "intentionally withholds" things about race from students, so they end up having to educate themselves.
University of Arkansas professor and CRT advocate thinks white people's "dysregulation" (poor ability to manage emotional responses) is what leads to violence.

She states white people need to "reregulate" themselves.

"Anti-racism"/Critical Race Theory concepts are racist. pic.twitter.com/xDHMGa5RN2

— Mythinformed MKE (@MythinformedMKE) November 14, 2021
Corrigan also alleges parts of higher education are "hostile" to "black speech" (but especially black liberation), and that the United States only recently in its history has approached a "democracy" (specifically, after the Voting Rights Act).
Interestingly, the professor believes "Republican" efforts against critical race theory are "backfiring hugely" as they've led to the (unintentional) dissemination of CRT works throughout schools. Corrigan adds it is "absurd" to claim CRT is taught in lower ed. (Did she miss November 2's election results, particularly in Virginia?)
Magnifying the hyperbole, Corrigan claims the current demographic "browning" of the United States could lead to the country becoming an apartheid state … but one of the ways to prevent this future is to guarantee "safe and secure" voting rights.
Throughout the podcast, both Corrigan and Hintz conceitedly lecture "culturally incompetent" whites on accepting the notion of omnipresent and all-permeating white supremacy, as well as the corrective measures which only folks like themselves are qualified to offer.
According to her faculty page, Corrigan is the author of two books and has been published in journals such as QED: A Journal in Queer Worldmaking, The Journal of Post-Colonial Writing and Women's Studies in Communication.
Watch the full interview:
MORE: HS begins all staff meetings with 'commitment to dismantling whiteness'
IMAGES: YouTube screencap
Like The College Fix on Facebook / Follow us on Twitter