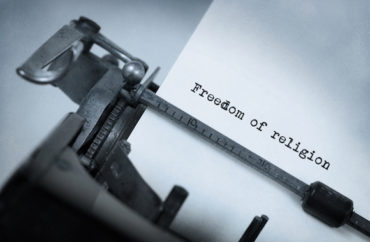 The anti-religion group Freedom from Religion Foundation has sent a complaint to the president of Auburn University regarding its football chaplain program.
The grievance, sent on October 22 to AU President Dr. Steven Leath, alleges Auburn's Chette Williams utilized an "unmistakably Christian" team prayer during a game on September 29.
AL.com reports the letter stated in part "We'd like to remind AU that employing a chaplain and giving him unfettered access to a captive audience of football players is unconstitutional.
"While students athletes are free to pray, either individually or as a group, university staff members should not be leading, participating in or encouraging students to engage in religious exercises or hiring 'chaplains' to do so."
Auburn is a public university.
According to the report, Williams' included the following in his prayer: "Father, we love you. We thank you so much for Jesus who died on the cross for our sins, and it's in His name."
Auburn was one of numerous universities targeted by the FFRF back in 2015. The group said then that "prayers and chapel services are not voluntary because 'student athletes are uniquely susceptible to coercion from coaches.'"
The group also called on AU to honor its 2015 open records request for documents and emails related to the chaplaincy program and any other religious activities and events with the football program. …

At the time, Auburn said chaplains were commonly found at many public institutions, including the U.S. Congress. It echoed that in a statement provided this week to the Opelika-Auburn News.

"The football team chaplain isn't an Auburn employee, and participation in activities he leads are voluntary," the university said.

A former linebacker at Auburn, Williams is the campus director for the Fellowship of Christian Athletes and the State Director for Urban Ministries for FCA. He has served as the football team's chaplain since 1999.
FFRF's 2015 complaint claimed that although "54 percent of college-aged Americans are Christian," a full 100% of the chaplains it investigated were "promoting Christianity, usually with an evangelical bent."
MORE: FFRF launches campaign against college basketball chaplains
MORE: 'Jesus Lunches' continue as school ceases attempts to shut them down
IMAGE: Micha/Shutterstock.com
Like The College Fix on Facebook / Follow us on Twitter