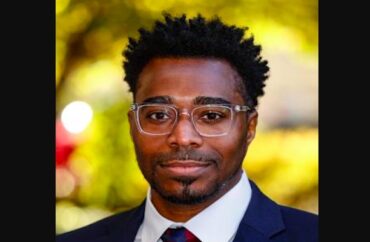 A University of Maryland professor of sociology recently told a webinar audience that police in the United States have the same reaction to snakes and spiders as they do to "Black individuals in close proximity."
Rashawn Ray, head of UMD's Social Justice Alliance and Anti-Black Racism Initiative, cited his own implicit bias research for the comparison during the discussion "Rotten Trees: Racism and Bad Apples in American Policing," The Pitt News reports.
Ray (pictured) had worked with UMD's Lab for Applied Social Science and Google to "create an immersive virtual reality experience that explored racial preferences and bias" and which "curat[ed] specific experiences [and] routinely changed the race of the characters involved."
Police officers' reactions, Ray said, "changed quite blatantly" depending on the race of the subjects.
Also in the webinar, which was sponsored by the Africana and Afro-American Studies departments of the University of Pittsburgh, Brown, and the University of Massachusetts-Amherst, Ray claimed black people are "3.5 times more likely to be killed by police when they are not holding a weapon or displaying acts of aggression" and that "police killings and violent crime rates are often unrelated."
Ray said specifically after the death of Trayvon Martin, the Black Lives Matter movement began to firmly take shape on social media. Increased displays of activism, both on and off social media, began to grow rapidly at this time as the movement surged onward, according to Ray.

"Social media plays a role in humanizing the marginalized," Ray said.

Ray spoke about how Black boys, specifically in the case of Michael Brown, are often "aged up" to appear more dangerous. Doing this allows their killers to justify their murders, alongside the fact that law enforcement officers are often given a specific script when told to recap their experiences in the homicides of Black individuals, according to Ray. Michael Brown, specifically, in an image formed under the conservative social media group "TCOT" (Top Conservatives on Twitter) was depicted as a "huge monster" seen towering over and crushing a policeman and his vehicle in the image.
Much of what Ray discussed in the webinar also is covered in his 2020 Brookings Institution (at which Ray is a Senior Fellow) report "Bad apples come from rotten trees in policing."
In another Brookings report from that year, Ray and a fellow sociologist dissected college basketball's "racial bias problem" by comparing announcers' and commentators' remarks in relation to players' "performance, physical characteristics [like skin tone], and mental characteristics."
In 2021, Ray claimed critical race theory is not being taught in the nation's K-12 schools, and that GOP-led legislation to curtail CRT is "a method for continuing to roll back racial progress regarding everything from voting rights to police reform."
MORE: Racism keeps black people awake: Northwestern scholar
MORE: Harvard research blames 'white supremacy,' 'capitalism' for pregnant black moms' health problems
IMAGE: U. Maryland
Like The College Fix on Facebook / Follow us on Twitter