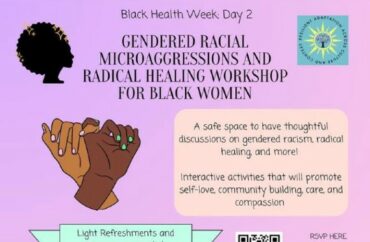 Black Health Week also includes 'microaggression,' 'gendered racism' events
Students are invited to a "fun-filled week" of events focused on "microaggressions," "black joy and resistance," "gendered racism" and more during Black Health Week at the University of Maryland, College Park.
While promotional materials for the events do not explicitly forbid white students and others from attending, several fliers and advertisements online for the events, which run from Nov. 6 to Nov. 10, describe the gatherings as "for Black students," "for Black Women," and "for Black Men."
The materials state the on-campus events aim to help black students learn about "identity, cultural experiences, mental health, physical well-being, and different ways to thrive."
A project of the Resilient Adaptation across Culture and Context Lab in the Department of Psychology, Black Health Week includes a painting party, yoga and dance classes, food, prizes, and more, according to the RACC Lab's Instagram account.
One event, a "Gendered Racial Microaggressions and Radical Healing Workshop for Black Women," will offer students a "safe space" for "thoughtful discussions on gendered racism" and "radical healing." It will involve "interactive activities" to promote "self-love, community building, care and compassion," according to the flier.
Microaggressions are intentional or unintentional statements some individuals perceive as insulting or derogatory. Examples include "Where are you from?" "I believe the most qualified person should get the job," and "There is only one race, the human race."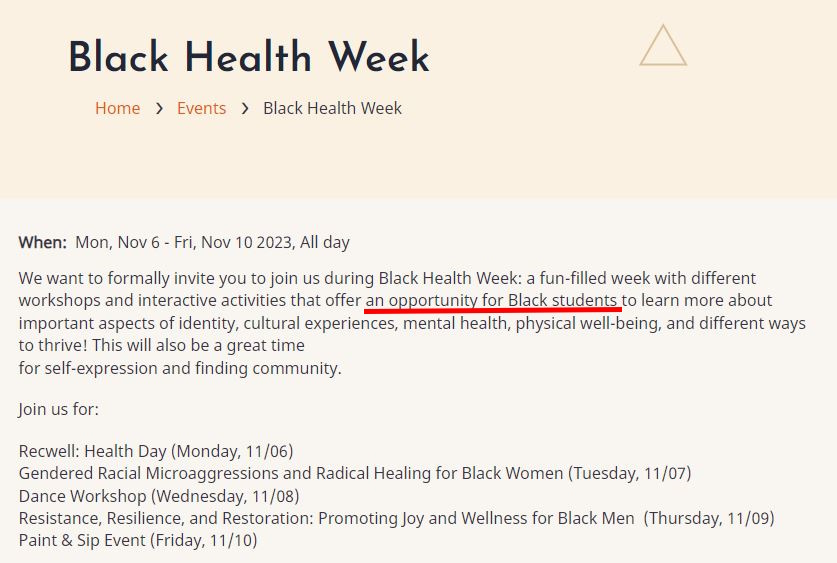 Another workshop, "Resistance, Resilience, and Restoration" will promote "joy and wellness" for black men, with discussions and resources about mental health, "systemic and societal issues" and "community and healing."
The week also includes a "paint and sip" event with "guided painting on black joy and resistance," and a dance workshop featuring "Afro-dancing styles."
Other schools also have offered resources and events in the past that are designed only for black students.
Earlier this year, California's Santa Barbara Unified School District announced plans to open a Healing Space clinic for black students, The College Fix reported.
Similarly, in 2016, the California State University Fresno held a three-day student retreat for black students to foster inclusion and help freshmen adjust to college life.
And last year, the University of Utah became the target of a federal investigation after advertising a doctoral program exclusively for black students; it later scrubbed its website of the program, The Fix reported at the time.
Many universities have been accused of race-based admissions practices as well.
The U.S. Supreme Court ruled against affirmative action admissions in a case in June involving Harvard University. However, some universities say they still plan to consider a student's race in their admissions process.
MORE: U. Louisville will still use race in admissions, president says
IMAGE: University of Maryland RACC Lab/Instagram
Like The College Fix on Facebook / Follow us on Twitter