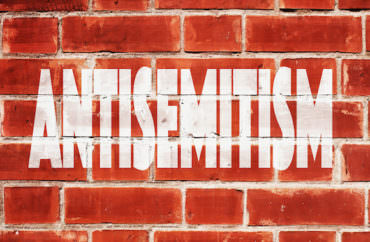 A recent poll out of the University of Massachusetts Amherst reveals that African Americans are more likely than other racial groups to harbor antisemitic views.
In response to the statement "Jews still talk too much about what happened to them in the Holocaust," 30 percent of blacks answered in the affirmative, double the percentage of white respondents.
Nineteen percent of Asians and Latinos respectively agreed with that statement.
In response to the statements "Jews have too much power in the business world" and "Jews think they are better than other people," 31 and 29 percent of blacks respectively agreed, compared to 15 and 13 percent of whites.
Notably, more Asians than blacks agreed with the latter statement at 30 percent.
There were only very small differences among Biden and Trump voters with regard to all three statements, a result similar to political party affiliations.
Younger Americans, on the other hand, are significantly more antisemitic than those over age 55, the poll found. Other poll findings include:
— Republicans, Trump voters and Asians are significantly more likely to agree that massive immigration, or the "Great Replacement" as the poll states, means "America is in danger of losing its culture and identity."

— There's a huge gap between Democrats/liberals and Republicans/conservatives when it comes to paying slavery reparations: 55 percent of Democrats and 59 percent of liberals agree with such payments; only 15 percent of Republicans and 11 percent of conservatives concur.

— Asians are the racial group least likely to support reparations for slavery. However, more Asians believe slavery is responsible for present-day inequalities.

— Many more Democrats/liberals than Republicans/conservatives agree that "white people in the U.S. have certain advantages because of the color of their skin." Many more of the former also disagree that "racial problems in the U.S. are rare, isolated situations."
The Crosstabs-UMass Amherst poll included the responses of 1,000 individuals and is a "politically representative 'modeled frame' of US adults" culled from things such as the American Community Survey, the 2020 Current Population Survey and the 2020 National Election Pool.
MORE: Professor: Opposition to critical race theory is 'rebranded Nazi-style antisemitism'
IMAGE: Shutterstock.com
Like The College Fix on Facebook / Follow us on Twitter