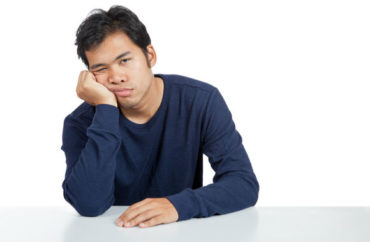 Part of the University of Michigan's Diversity, Equity and Inclusion initiative includes — what else? — "conversations" on the topics of the initiative, and on Tuesday evening the "social justice theater company"(!!) Dialogues on Diversity led the confab on how to improve these factors in the sciences departments.
DoD executive director Ron Jones began the event by asking the audience various questions to help "combat preconceived notions of diversity and privilege."
The Michigan Daily reports some in attendance complained diversity/inclusion conversations just aren't valued in the sciences — they're considered, for example, "distractions to the lab."
Perhaps that's because of "say what?" statements like this:
"There's a culture clash when a minority or non-dominant culture come to an environment where it's mostly a dominant culture," student Omari Baruti said. "They don't value conversations on diversity or you talking about diversity as much as the non-dominant culture. Some things they say is that, 'I've never had to experience these issues, so I feel like I shouldn't have to talk about this.'"
As you might expect, microaggressions also was a hot topic. Student Angela Carter said the microaggression she experiences is the "pressure" of having to represent all black women.
"You go into the department, and you're the person representing whatever identity you conform with," she said. "Me, being a Black woman, I'm representing Black women. Anything that I do wrong or do correctly is representing all Black women."
Perhaps that microaggression could be scaled down to a picoaggression had campus identity politics not made it next to impossible for members of minority groups to think and believe differently than expected …?
[S]tudent Kaylin White said she was happy to see the number of people in attendance, but wished more faculty members were present.

"I was happy to see the large attendance numbers," White said. "There have been so few events like this so far. Seeing that many people, and not just seeing those seats being filled with black people or the white LGBTQ crowd that comes out for their events and things. It was good to see people who aren't necessarily part of some marginalized groups show up, or not visibly a part of it, which in one sense is a privilege, to be honest. I really wish that more faculty came, I really do. But that's not on the event, that's on the faculty again. But I'm glad that this is happening on a University level."

The dialogue was not mandatory for every department, although the umbrella organization, Program in Biomedical Sciences, did require its members to attend.

Many attendees were concerned faculty members were not required to be in attendance.

"I'm not as worried about what another person in my cohort thinks of me, to a certain extent — yes, as I am about someone who's going to be writing a recommendation letter for me, someone who basically my future's in their hands, someone who contributes to my daily happiness, because I have to interact with every day," White said. "That is way more power. Having this community is great, but it's really important for (faculty members) to figure it out."
Perhaps the next conversations can include a session on why college professors should not be viewed as "someone who contributes to one's daily happiness."
MORE: City council starts 'diversity discussions' after Harvard staffer's 'racist' remarks
MORE: Harvard freshmen find 'conversations' about identity 'ineffective'
IMAGE: Halfbottle/Shutterstock.com
Like The College Fix on Facebook / Follow us on Twitter