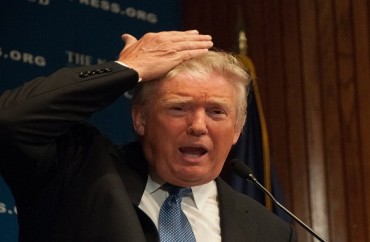 Members of the University of Michigan community are outraged that the largest donor in the school's history held a fundraiser for President Trump at his home on Friday.
Stephen Ross, a UM graduate and now the billionaire owner of the NFL's Miami Dolphins, has the college's business school named after him. That is one of the targets of UM's anti-Trump community; according to The Michigan Daily, activists want the business mogul's name removed from campus buildings.
A university spokesman said that will not be happening.
In an email to students and faculty, School of Business Dean Scott DeRue said UM "does not endorse or support this fundraiser or any others for any political candidates," and added "working with people holding different opinions" is the "key" to democracy.
As might be expected, the UM College Democrats were not pleased with Ross's decision:
"We are disappointed about the decision for Stephen Ross to host a fundraiser for President Trump," [UMCD spokesperson Camille] Mancuso wrote. "The President's racism is dangerous and harmful, and this fundraiser is an endorsement of the actions and rhetoric which harm those on our campus and beyond. Stephen Ross does not reflect our values as an organization, as a campus, or as people, and we call on members of the campus community to speak out against this decision."
An open letter from UM alumni calls on university officials to remove Ross's name from buildings and signs and "to engage students and alumni in conversation on how to reconsider [his] donations." It says letter signatories are participating "out of a sense of morality and justice" because they care about UM but "even more so for our democracy and country."
The letter currently has around 500 signatures.
Kumar Rao and Ben Schuster, a business school alum and current junior respectively, said Ross's affiliation with Trump could damage UM's reputation as well as the prospects of graduates seeking employment.
"If [Ross] fails to (cancel the event), it would signal to me that he is not in favor of the values he claims to have: racial equality, inclusion, diversity, public education and environmental sustainability," Schuster said.
In a "5 Fast Facts You Need to Know" piece about the billionaire, Heavy.com notes Trump wasn't Ross's first choice for president in 2016: He held a fundraiser for Jeb Bush in January of that year. Also, during one of Trump's bigger cultural battles — NFL players kneeling for the National Anthem — Ross sided with the players.
MORE: Lawsuit: Trump voters at risk from U. Michigan's bias response team
MORE: University of Michigan students rally for Trump impeachment
IMAGE: Shutterstock.com
Like The College Fix on Facebook / Follow us on Twitter