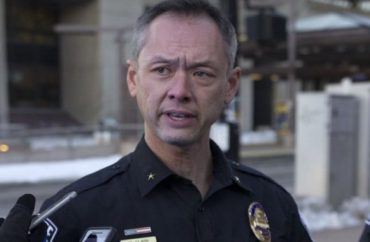 The University of Minnesota Student Association is calling for the resignation of the campus police chief due to his alleged failure to make reforms and discuss issues with student leaders.
According to The Minnesota Daily, the MSA sent a letter to UM President Joan Gabel and Senior Vice President Myron Frans demanding Chief Matthew Clark (at right) leave his position immediately, and that his interim successor be committed to "diversity and inclusion" and "demilitarization" of the department.
The MSA also was miffed about Clark's alleged "lack of response" to an (alleged) racial profiling incident last month.
The letter states "In his five and half years as Chief of Police at the University of Minnesota, Matt Clark has repeatedly and unequivocally disregarded student demands, failed to increase campus wellness and safety for students of color and has allowed the utilization of UMPD as a physical arm of the oppressive state to subjugate and silence community members both on and off campus."
It seems the catalyst for the MSA letter was the UMPD helping out local police with crowd control following the shooting of Daunte Wright. The MSA had hosted a "listening session" earlier this month to allow students to air grievances to members of the Board of Regents about the issue.
One complaint was that police used "excessive violence" at post-shooting protests.
Police and state patrol officers were seen firing pepper balls, flashbangs and tear gas into the crowds during protests on April 12.

Authors of the statement, Jack Flom and Rebecca Jacobson, said they were arrested in Brooklyn Center and detained for 48 hours after attempting to drive some protestors home.

"We were informed that Chief Clark was in charge of approving UMPD going to join other forces in Brooklyn Center on Sunday night and allowing UMPD to be utilized in that way to traumatize people," Jacobson said. "So that, compounded with all of the other issues with Matt Clark and UMPD over the last year or more, is kind of what spurred taking action now."
The MSA concludes with a not-so-veiled threat: If its demands aren't met, members will begin "direct actions to not only ensure the resignation of Matt Clark but the transformation of UMPD."
MORE: I've lived in Minneapolis my entire life. I no longer recognize my hometown
IMAGE: The Minnesota Daily / Twitter screencap
Like The College Fix on Facebook / Follow us on Twitter