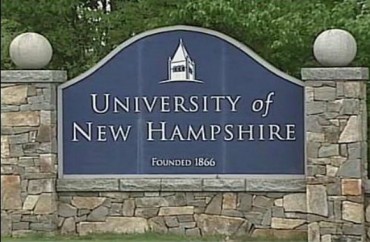 You'll recall late last week it was revealed that the University of New Hampshire had posted online a "Bias-Free Language Guide" that, among other things, said the term "American" was "problematic."
But the school's president, Mark Huddleston, claimed that he wasn't aware of the guide until last week, and clarified that it (the guide) is not UNH policy: "… I want to make it absolutely clear that the views expressed in this guide are NOT the policy of the University of New Hampshire," he said.
Now, the college has officially taken down the guide from its website, and issued a statement:
The associate vice president for community, equity and diversity removed the webpage this morning after a meeting with President Huddleston. The president fully supports efforts to encourage inclusivity and diversity on our campuses. He does not believe the guide was in any way helpful in achieving those goals. Speech guides or codes have no place at any American university.

President Huddleston has ordered a review of UNH's web posting policies in the weeks ahead. He was surprised and unhappy to learn that the university does not have practices that make clear which web pages include UNH policies and which pages include content that reflects the opinions of some members of our community.

The university has more than 1 million web pages on its site; university administration was not aware of the "language guide" until this week.
Like The College Fix on Facebook / Follow us on Twitter
IMAGE: Internet screencap