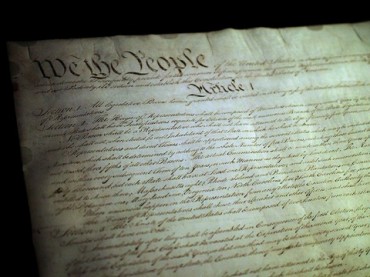 It's state law: all public universities must teach about the nation's founding documents, but University of South Carolina President Harris Pastides is refusing to follow it. He says teaching about the Constitution and other founding-era writings is "archaic." Ironically, the college claims the law itself is unconstitutional. The Daily Signal reports:
When asked about this by a student at an academic forum in 2013, the vice provost of USC, Dr. Helen Doerpinghaus, claimed that while the university did not follow the letter of the law, it did follow the "spirit of the law" by handing out pocket-sized Constitutions on Constitution Day. Under this logic, the university must believe it could teach students chemistry by handing out a copy of the Periodic Table on World Science Day on Nov. 10.

Starting in December 2013, several concerned state legislators wrote to the university asking about this failure. President Pastides responded by saying the law was "archaic" and giving multiple reasons for the university's noncompliance. He also claimed that about 60 percent of students take a political science or history class that discusses these documents, which, of course, means that approximately 40 percent of students don't take those classes and do not receive a proper grounding in our founding documents and the principles that animate them.
The university's main concern is a part of the law that requires a student's "power of loyalty" to the Constitution "be examined" before graduating.
But The Signal's Hans von Spakovsky wonders why the college, instead of merely objecting to that small portion, has elected to thumb his nose at the entire law.
Like The College Fix on Facebook / Follow us on Twitter
IMAGE: ByMr.TinDC/Flickr