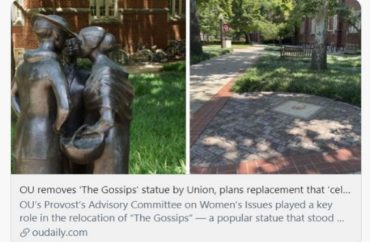 A bronze statue of three women huddled together talking has been removed from its highly visible location on the University of Oklahoma quad.
The statue, called "The Gossips," had been a gift from former OU president and Democratic politician David Boren. It was installed in 2007.
But more recently, it apparently offended or upset members of the Provost's Advisory Committee on Women's Issues, whose members played a "key role" in its relocation, the OU Daily reports.
"While the advisory committee's current board has not made a statement as to why the statue was removed from its regular location, a university spokesperson wrote in an email that they removed the statue based on requests from OU community members, alumni and at the appeal of the advisory's committee," the student newspaper reported.
"…The spokesperson wrote that the university plans to replace the art with a piece that 'celebrates women.'"
Not everyone seems to agree with the decision.
"Wow — that piece was celebrating social circles, community, solidarity amongst women and sisterhood. I think whoever was 'offended' needs to look past the 'gossip' title," tweeted one observer.
According to the university's website, the Provost's Advisory Committee on Women's Issues promotes its cause by "attending to issues of concern to women," "celebrating the accomplishments of women at OU," and "communicating and collaborating with other groups concerned about gender and diversity at OU."
The statue was created by noted sculptor Harry Marinsky.
"The close proximity of their finely chiseled facial features suggests the secretive tone of their conversation. Marinsky based this sculpture on three women he witnessed gossiping at a Henry Moore exhibition," describes the Museum of Outdoor Art. "The style employed by Marinsky is simple, yet it explores the complexity of the human form and psyche."
The statue has been relocated from the student union to the Fred Jones Jr. Museum of Art on campus, the student newspaper reports.
MORE: UVA to remove Revolutionary War officer's statue
IMAGE: Twitter screenshot
Like The College Fix on Facebook / Follow us on Twitter