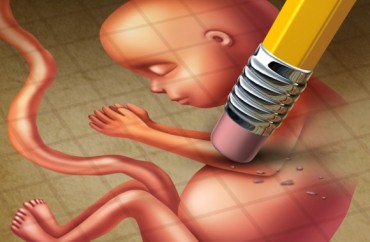 The anti-abortion organization Center for Bio-Ethical Reform is headed to the University of Oregon this Wednesday, and campus officials and students alike are buckling down for its message of "prenatal justice and the right to life for the unborn."
According to the Daily Emerald, the group, on a tour dubbed "The Genocide Awareness Project," plans to erect at the Erb Memorial Union a "twenty-foot tower covered in graphic images comparing abortion to the Holocaust."
Erb Memorial Union Director Laurie Woodward said (rightly) that the CBER has the right to its display despite the explicit images: "Our job is to be content neutral because we're a public space on a public campus. We book groups on whether or not they meet criteria."
UO counselors will be on hand to deal with any student "emotional traumatization."
Daily Emerald columnist Billy Manggala is quite upset about the Genocide Awareness Project being on campus:
GAP wishes to start a conversation on the value of human life by forcing students to examine poster-board sized pictures of dead fetuses, equating it to nations facing or have faced genocide. …

Everything GAP does is not only repulsive and disturbing, it goes to the extent of being racist, sexist and offensive to anybody who opposes seeing images of dead fetuses on their way to class, which I believe is the majority of UO students. Placing the images next to photos of Holocaust and lynching victims is GAP's absurd tactic of comparing abortion to genocide. Although GAP is exercising its free speech rights, it's doing it in the most repugnant way possible.
Of course, "most repugnant way possible" is just what the First Amendment was designed to protect. And, alas, the display has to be "racist" and "sexist" somehow for good measure. Because progressivism.
Manggala points to a Facebook page for those interested in counter-protesting the event. It says the Genocide Awareness Project "seeks to distress students with extreme anti-choice rhetoric that conflates abortion with the mass atrocity of genocide."
Indeed. We wouldn't want young adults to think about the untold numbers of unborn human beings killed for convenience, and how that compares to other irrational inhumane acts like the Holocaust and lynching, would we?
MORE: Protester trashes anti-abortion display at Texas State: 'Get the f*ck out of here'
MORE: Student government tried to purchase city sidewalk to thwart anti-abortion protestors
IMAGE: Shutterstock
Like The College Fix on Facebook / Follow us on Twitter