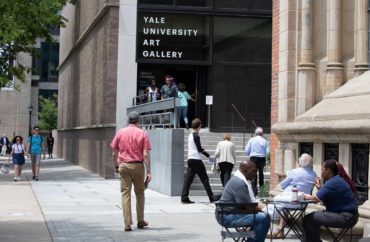 The artifacts are linked to Subhash Kapoor, a former Manhattan gallerist charged with leading multinational art smuggling ring
The United States Department of Homeland Security confiscated and impounded 13 artifacts from the Yale University Art Gallery March 30, acting on information that they were stolen and connected to a notorious incarcerated art dealer, the Yale Daily News reported.
"Yale University, having been presented with information indicating that works of art in its collections were stolen from their countries of origin, delivered the works on March 30, 2022 to the New York District Attorney's Office, which will coordinate the objects' repatriation later this year," the university said in a statement posted March 31.
The art objects, all originally from present-day India or Myanmar, were valued at a combined $1.29 million, according to ArtNet. The collection included a 10th-century sandstone statue of the Hindu god Kubera, valued at $550,000.
Many of the artifacts are part of an ongoing investigation into former Manhattan gallerist and accused art smuggler Subhash Kapoor, the New York Times stated.
Kapoor has been incarcerated in India since 2011 on charges of theft, smuggling and trafficking, according to the Times. Law enforcement in New York has also accused him of running a multinational art smuggling ring for more than three decades, profiting off stolen art valued at more than $145 million.
The Department of Homeland Security, working in cooperation with the Manhattan district attorney's office, released a statement describing most of the Yale art pieces as "connected to either Subhash Kapoor or his overseas suppliers," the Times reported.
The Yale University Art Gallery in New Haven, Connecticut, has nearly 300,000 items in its collection and is the oldest university art museum in the United States.
Other institutions that have returned items under suspicion of illicit connections to Kapoor include the National Gallery of Australia, the Toledo Museum of Art and the Honolulu Museum of Art, according to the Times.
Yale will assist the New York City District Attorney's Office in returning the items to their countries of origin later this year, it said in its statement.
MORE: Princeton cancels Jewish-American artists exhibit due to links to the Confederacy
IMAGE: Facebook/Yale University Art Gallery
Like The College Fix on Facebook / Follow us on Twitter