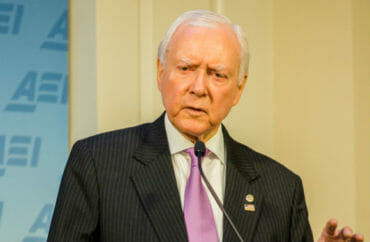 Definitions must match Supreme Court precedents
Republican Orrin Hatch of Utah isn't running for re-election, and evidently he wants to go out on a high note.
The 41-year Senate veteran and former chairman of the Judiciary Committee offered a bill Wednesday to "protect expressive activities in the outdoor areas" on public college campuses nationwide.
This isn't a novel idea – it's a basic constitutional obligation of such schools already – but many institutions ignore their legal obligations and wait for students to take them to court.
The Free Right to Expression in Education Act explicitly authorizes any person to "peacefully" assemble, protest or speak; distribute literature; carry a sign; or circulate a petition as long as it's outside on campus grounds. Activities must be noncommercial, however.
The bill exempts activity that includes violence, harassment or obscenity as defined by the secretary of education "in accordance with the precedents of the Supreme Court" – an important qualifier, given how loosely many universities define violence and harassment.
The time, place and manner restrictions authorized in the bill also come straight out of Supreme Court precedent – narrowly tailored for a "significant institutional interest," based on "published, content-neutral and viewpoint-neutral criteria," and permissive toward "ample alternative channels for communication."
A person whose speech is illegally suppressed would be able to sue in federal court and obtain at least $500 for the initial violation and $50 for each day "the violation continues" after the person has notified the public college. That person would also qualify for compensatory damages, reasonable court costs and attorneys fees.
The attorney general would also be authorized to bring complaints, and Attorney General Jeff Sessions has already shown such inclination via the Justice Department's intervention in free-speech lawsuits. The statute of limitations is one year from the date of the initial or most recent violation.
A spokesperson for Hatch provided a copy of the bill to The College Fix. It does not have a bill number as of Wednesday night, and it has yet to appear on Congress.gov.
MORE: Dianne Feinstein is fine with colleges blocking controversial speakers
Free Right to Expression in Education Act sponsored by Republican Sen. Orrin Hatch by The College Fix on Scribd
'To silence speech for fear of reprisal is cowardly'
Hatch published an article Wednesday in National Review laying out his intentions and saying that "although I may disapprove of a person's tweet, I will defend to the death his right to tweet it."
He cited both the eagerness of administrators to "dampen student expression" when it challenges their elders' beliefs and the "conspicuous bias against conservative views."
The senator specifically cited Williams College student Zach Wood, who testified last summer about his troubles getting permission to host conservative speakers:
Zack [sic] Wood, a student, testified recently before the Senate Judiciary committee, observing that "in my time at Williams College, I cannot name a single conservative speaker that has been brought to campus by the administration." Zack's testimony is a stunning indictment.
Hatch said professional provocateurs aren't the only people who have been stymied from speaking on public campuses, naming Condoleeza Rice at Rutgers and Ben Shapiro at the University of California-Berkeley:
For universities to bow to thugs is shameful. Indeed, to silence speech for fear of reprisal is a cowardly [sic], a surrender of our most basic constitutional rights.
The new bill is intended to protect students regardless of where they live, according to Hatch, pointing to the state-level bills of rights that existed before the U.S. Constitution had its own:
[M]any thought that the inclusion of such a bill would be redundant. But the supporters of the Constitution made a promise that the first order of business would be to insert a bill of rights that would protect the freedom of expression.

This early commitment to free speech has become an integral part of the American psyche. And despite various attempts to undermine free speech in our nation's highest court, it remains clear that to limit speech because of the viewpoint it represents is unconstitutional.
He called on supporters of diversity and tolerance to challenge "white supremacists and Nazis … with better ideas":
What we cannot do is let the voice of a loud and violent minority stifle those ideas that deserve our respect and consideration. We must strike a balance. We must allow those with differing opinions to be heard. In times of dangerous political polarization, we must be open and receptive to debate instead of seeking to shut it down.
Read the bill as introduced and Hatch's essay.
MORE: Defending intellectual inquiry turned student of color into pariah
IMAGE: stock_photo_world/Shutterstock
Like The College Fix on Facebook / Follow us on Twitter