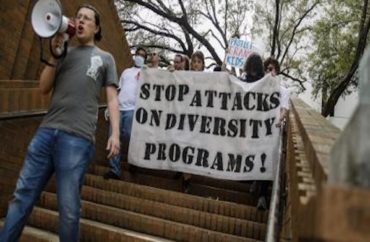 They support 'communities that continue to experience discrimination […] and because of the historical context of it all'
Students with the University of Texas Arlington's Progressive Student Union marched to "protect" campus DEI — diversity, equity and inclusion — programs on Wednesday in response to the UT system putting a halt on new DEI programs.
U. Texas schools — followed by the University of North Texas and Texas A&M systems — did so due to state lawmakers "question[ing] the [DEI] programs' legality, saying they may 'encourage discrimination in the workplace.'"
According to The Shorthorn, the group of seemingly a dozen or so activists ended up at UTA President Jennifer Cowley's office where they left voice messages for her (as she wasn't in town) and presented demands.
One demand was a statement from Cowley "regarding recent proposed Texas legislation targeting transgender athletes in college sports." The Texas Tribune notes one of Lt. Gov. Dan Patrick's "30 priorities" (which Gov. Greg Abbott supports) is banning transgender athletes from "joining collegiate teams that align with their gender."
The protesters want Cowley and her administration to develop a plan to "combat" the legislation as well as to protect critical race theory and DEI programs.
Another demand was to ditch the names of Jack Woolf and Ernest Hereford from campus buildings due to their "alleged racism." Arlington State College, UTA's predecessor, maintained segregation for a few years even after Brown v. Board of Ed. under Woolf's leadership (but, ironically, it ended up being the first A&M system school to integrate and accept black athletes), while Hereford oversaw a mascot change to "Johnny Rebel" along with a Confederate Battle Flag symbol.
MORE: U. North Texas, Texas A&M Systems join UT in 'pause' of any new DEI initiatives
At the protest, mechanical engineering sophomore Lesly Torres Guerrero shared her perspective as a woman in STEM and said she doesn't see much diversity of faculty and staff. In order to feel connected to other Mexican-Americans, she had to seek out other student organizations.

Torres Guerrero wants to ensure that UTA isn't just giving her an education, but is dedicated to helping her succeed, she said. It could issue a statement promising to protect and expand DEI programs and better educate students about available resources promoting diversity. …

The aim of DEI programs isn't to discriminate, Torres Guerrero said.

"It's providing support for communities that continue to experience discrimination whether in different areas and because of the historical context of it all, have really struggled to break into and continue to grow their communities, whether that be in higher education, economically, financially," she said.
We're currently in the office of @UTAPrezCowley to demand she protect and defend #DEI and #Diversity on campus. We're currently wondering why she isn't in her office, defending our rights? pic.twitter.com/oQRKb39fFb

— UTA_PSU (@uta_psu) March 22, 2023
According to its Facebook page, the Progressive Student Union over the last year has rallied to "protect trans youth" and abortion rights, and it hosted Dozthor Zurlent, an advisor to former Venezuelan strongman Hugo Chávez.
MORE: UTA professor instructs elementary school teachers on how to 'interrogate whiteness'
IMAGE: The Shorthorn / Twitter screencap
Like The College Fix on Facebook / Follow us on Twitter