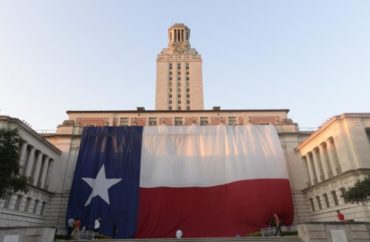 'No university or agency in the A&M System will admit any student, nor hire any employee based on any factor other than merit,' Texas A&M chancellor stated
The University of North Texas and Texas A&M University Systems joined the University of Texas System in imposing a "pause" on new DEI initiatives in the wake of several February memos on employment discrimination from Texas Gov. Greg Abbott's office.
A bill currently under consideration in the Lonestar State would also forbid diversity, equity and inclusion initiatives at all public universities in Texas.
UNT System Chancellor Michael Williams announced at a March 8 faculty senate meeting that the system will pause implementing new DEI programs and that future hiring will be merit-based, according to the North Texas Daily.
"The UNT System is the last of the major Texas university systems to release a statement about DEI initiatives," the Daily reported.
The College Fix reached out to UNT System Chief Communications Officer Laken Rapier, who enclosed and referred to a printed statement by Chancellor Williams.
"The UNT System does not support discriminatory hiring practices, and we will always follow state and federal hiring and employment laws," according to the statement.
"Nevertheless, as Chancellor of the UNT System, I have requested a review of our current hiring policies to ensure an appropriate and consistent approach is being taken across our entire system," Williams continued. "Furthermore, I have paused the implementation of any new DE&I policies, programs, and trainings until an evaluation is concluded."
Days before, Texas A&M University System Chancellor John Sharp instructed all universities and agencies in the public Texas A&M University System to remove DEI considerations from employment practices, according to a March 2 statement.
"No university or agency in the A&M System will admit any student, nor hire any employee based on any factor other than merit," Chancellor Sharp stated.
"Today's System-wide directive standardizes faculty and staff applications, limiting them to a cover letter, curriculum vitae, statements about research and teaching philosophies, and professional references," the release stated.
In one of several of the governor's recent memos regarding DEI and hiring, sent Feb. 4, Chief of Staff Gardner Pate described employment practices that consider factors beyond merit as illegal.
"When a state agency adjusts its employment practices based on factors other than merit, it is not following the law," according to the letter. "Rebranding this employment discrimination as 'DEI' does not make the practice any less illegal."
"Further, when a state agency spends taxpayer dollars to fund offices, departments, or employee positions dedicated to promoting forbidden DEI initiatives, such actions are also inconsistent with the law," the memo continued.
Renee Eze, a spokesperson for the governor's office, defended the governor's missive in a statement to ABC News.
"Both federal and state law make equity quotas illegal," Eze said. "The issue is not diversity—the issue is that equity is not equality. Here in Texas, we give people a chance to advance based on talent and merit."
The Fix emailed Laylan Copelin, Texas A&M's vice chancellor of marketing and communications, to ask how influential DEI had been in the hiring process within the system and to what extent hiring was already merit-based, and to ask for general comment. No response has been received.
The University of Texas System was the first in the state to pause DEI policies in late February
Chairman Kevin Eltife at the University of Texas System — distinct from both UNT and the Texas A&M Systems — announced the pause of any new DEI policies and initiatives in a Board of Regents meeting on Feb. 22, according to an official UT video.
Eltife, who oversees 13 public academic and health institutions across the state, delivered the remarks following receipt of one of Gov. Abbott's letters, The Fix reported last month.
"Given the clear legislative focus we have paused any new DEI policies on our campuses and have asked for a report on current policies across all our campuses," he said. "This will give our board a chance to review the various policies system wide."
"To be clear, we welcome, celebrate, and strive for diversity on our campuses, in our student and our faculty population," according to Eltife. "I also think it is fair to say that in recent times certain DEI efforts have strayed from the original intent to now imposing requirements and actions that rightfully so has raised the concerns of our policy makers, about those efforts in our campuses across our entire state."
The Fix contacted Catherine Frazier, director of media relations for the University of Texas Systems, via email to ask precisely which policies Chairman Eltife was referencing when he cited "certain DEI efforts" that "have strayed from the original intent."
Frazier declined to comment beyond reiterating Eltife's Feb. 22 statements.
She emphasized that "this is a pause of establishing any new policy" and current policies are unaffected.
MORE: Iowa suspends new DEI policies in higher ed, launches probe into current ones
IMAGE: UTexas.edu
Like The College Fix on Facebook / Follow us on Twitter