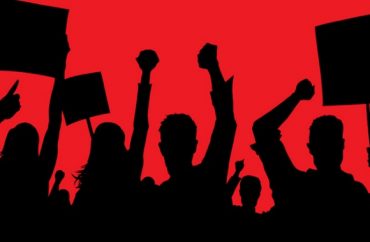 Say no to 'safe space for men to perform patriarchy'
The best response to protesters who smear you as rapists is making light of their unfounded beliefs. Right?
Not if the Sexual Violence Commission in the University of California-Berkeley student government has anything to say about it.
"At least six" members of Phi Gamma Delta, better known nationally as Fiji, posed for a photo behind protesters who invaded their property Oct. 13 to demand the university "Boycott Frats," The Daily Californian reports. They accused fraternities in general of perpetrating sexual violence.
The Fiji brothers made "peace signs" in the photo, which was privately distributed in a fraternity group chat and posted on Instagram, Greeks Against Sexual Assault co-directors Benni Cinkle and Veronica Ellis told the newspaper. The Daily itself said the brothers "jokingly" posed.
MORE: Harvard punishes entire men's team for 'crude' comments by past members
Yes, this was initially distributed privately by a fraternity that is not recognized by the university. Another student, Walker Spence, said he received the photo from his roommate, a Fiji member, and then wrote a Facebook post Sunday demanding "consequences" for the pose:
"There's no reason why we need to create a safe space for men to perform patriarchy to the detriment of every other person on the campus," Spence said in an email. "Anyone in a frat is complicit in upholding a set of values that systematically victimizes women, queer people, people of color, and anyone who does not confirm to their heteronormative patriarchal white supremacist values."
An unnamed student also accused Fiji members of using "gross" slurs and heckling protesters.
The fraternity's independence from the university hasn't stopped the Associated Students of the University of California from trying to get it in trouble.
The student union's Leadership, Engagement, Advising, & Development Center "has reached out to Fiji's headquarters to discuss the incident," according to the Daily, despite the fact that it has no authority over the unrecognized fraternity.
MORE: Syracuse promises 'legal' action against frat for privately shared skit
Ezra Alanis and Erika Casey, chair and assistant chair of the Sexual Violence Commission, said they were "deeply disappointed" in the allegedly mocking pose by Fiji members, which they claim mocked alleged victims of sexual violence.
The commission plans to meet with Interfraternity Council and Panhellenic Council leaders about the incident, but already convened Thursday to discuss its response, the Daily reports:
"We are in a state of shock about the fact that we are still living in this perpetual culture of sexual violence and sexual harassment even though we have so many programs, so much education and so much money being thrown at these kind of things," said Ezra Alanis, chair of the commission. …

"They are unaffiliated, which is supposed to be a punishment, but instead, they just get to work outside of the rules and regulations," Natalie Fulton, a commission member, said during the meeting.
The commission plans to bring pressure on all fraternities, recognized or not, to crack down on members who use their speech to dispute generalized sexual-violence accusations by protesters.
MORE: Columbia violates its own rules to punish wrestlers for private messages
Like The College Fix on Facebook / Follow us on Twitter