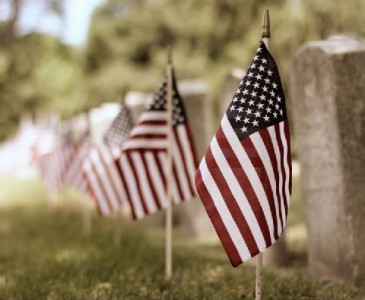 Chuck O'Connell is a sociology professor at the University of California-Irvine, and he has a problem with the school's Chancellor's Memorial Day message.
Why?
It doesn't address specifically, among other things, civilian casualties of America's wars, and anti-war and wounded veterans.
The professor offers up several past conflicts which, according to him, didn't actually "ensure our nation's safety": the Philippines, Korea, Vietnam, Afghanistan, and Iraq.
He also brings up the oft-cited (progressive) narrative that President George W. Bush "lied" in order to get the United States into Iraq.
Note the simplistic assumptions that soldiers who died did so "serving their country" and that those who served did so "to ensure our nation's safety." Has every war the soldiers fought been for our safety? Is it not possible that some of the many American wars were unjust wars for nefarious purposes? Is it not possible that some wars benefited only select segments of the population while requiring others to pay the costs in blood and treasure? Did the U.S. wars against the Filipinos, the Koreans, the Vietnamese, the Afghanis and the Iraqis, for example, really ensure our safety? Note the questions not asked.

Note that nothing is said about the falsifications on which the war in Iraq, for example, was based. Is the Chancellor suggesting to us that the officials of the U.S. government never deceive the public about the reasons for war? Does he really believe that the war in Iraq was based on truthful claims? Have the weapons of mass destruction finally been found? Has a connection between the regime of Saddam Hussein and al Qaeda been proven at last? If a war is based on falsehoods, can it be just? If a war is unjust, can those who fight it be "heroes"?
Here, you decide whether the Chancellor of UC Irvine is "suggesting" such things:
Recognizing those who serve

Next week, our campus will carry on our tradition of honoring veterans and military personnel with several Memorial Day events. On Tuesday, May 26, our Veteran Services Center will host the annual Memorial Day ceremony at the flagpoles. That same day, students, faculty, staff, and community members will join together to plant 8,000 flags in Aldrich Park to recognize those who have died serving our country. On Thursday, May 28, the center will host the 6th Annual UCI Veteran Appreciation Dinner and award the Thomas T. Tierney Scholarship and the Bridging the Gap military student scholarship to more than 20 student-veterans. This special event is an opportunity to show our appreciation as a campus community for students who have put their lives on the line to ensure our nation's safety. All proceeds from the dinner go to scholarships and the Military Student Program Fund, which supports UCI veteran and military student resources. I hope you will join us in recognizing our U.S. heroes.
Maybe O'Connell doesn't get that it just might not be the Chancellor's job to delve into the nitty gritty of each and every conflict in which the US was involved, and to debate the positives and negatives thereof. That's the prof's job — and I've little doubt he does just that whenever he gets the opportunity … especially the negatives.
Why would I think that? Oh, I don't know … maybe because he's invited lunatics like Jeff Halper to speak at his school.
Halper's a guy who claims Israel developed something called "spectral dust" in which each individual "speck" is a sensor that can home in on a specific set of DNA — then to be eradicated. You can probably guess where Israel has allegedly released this dust.
As for President Bush, Iraq and "lies," enough already. Even Bob Woodward, one of the reporters who brought down a sitting (Republican) president, knows Bush did not lie. There's an actual difference between lying and … just being wrong.
I've yet to hear from a "Bush lied" progressive why G.W. would knowingly lie about WMD … when the result of not finding them would be a ruined presidency.
h/t to Gary Fouse.
Like The College Fix on Facebook / Follow us on Twitter
IMAGE: Robin/Flickr