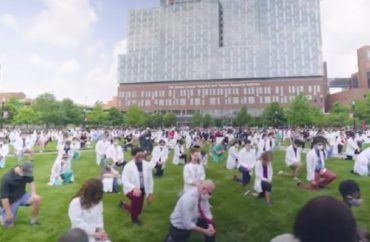 Professor Juliet McMullin will study intersection of 'racist border' policies and 'anti-black racism' and healthcare
A University of California Irvine professor received a nearly $1.3 million research grant from the state system to study "abolition medicine."
According to a description of the study, the project will examine how "anti-Black racism" and "racist border and immigration policies" contribute to "inequity" in healthcare. The $1,287,993 grant came from the University of California system's Research Initiatives office.
It also will look at "climate change-related disasters" and decisions by the Supreme Court of the United States that affected "patient autonomy," presumably in reference to the reversal of Roe v. Wade.
The grant summary stated:
The COVID-19 pandemic and its health disparities, climate change-related disasters, continued anti-Black racism, SCOTUS decisions affecting patient autonomy, and racist border and immigration policies, have brought to the surface the deep entanglements of institutions and policies that maintain inequity and disparate health outcomes
The College Fix reached out to UC Irvine Professor Juliet McMullin, who is the lead investigator of the study, to ask how she defined "abolition medicine" and what the project funding would be used for.
McMullin did not respond to two different requests for comment sent in the past week and a half.
Dr. Stanley Goldfarb, the leader of Do No Harm, a nonprofit group fighting wokeness in healthcare, told The Fix the funding would be better appropriated elsewhere.
"The concept of 'abolition medicine' addressed in the abstract is gibberish," Goldfarb said in a Feb. 24 email to The Fix.
"The fact that this program is going to receive $1.3 million to study every woke buzzword they could cram into a sentence is absurd," he stated.
"UC Irvine should use its grant money to aid medical students' education instead of pushing a political agenda," Goldfarb said.
'Abolition medicine' aims to '[reimagine] an equitable society,' according to summary
The research project will also seek to address "structural inequity" in disability healthcare by focusing on changing the environment as opposed to "medical humanities."
"Examining structural inequity is also a focus of health humanities which has centered disability studies in an effort to shift away from a medical humanities focus on narratives of fixing the body to transforming the environment," the study's abstract stated.
"Similar to disability studies, abolition medicine is also a commitment to building new institutions and processes for reimagining an equitable society," the description stated.
Investigators will use the grant to launch a "social mapping project" to track issues of health "inequity."
"The expertise of this MRPI research collective will achieve these aims through a social mapping project that examines the consilience between and friction among locally-identified health equity issues and community reimaginings," the study description stated.
The Fix reached out to the UC Irvine media relations department to ask for more information on how the university defined "abolition medicine."
The university did not respond to two inquiries sent in the past week and a half.
MORE: UC Santa Barbara students demand police abolition
IMAGE: Ohio State University College of Medicine/YouTube
Like The College Fix on Facebook / Follow us on Twitter