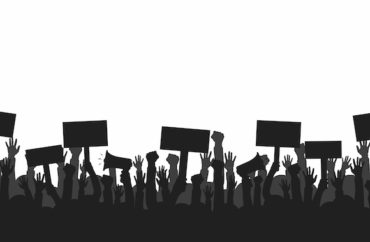 Last Thursday played host to a University of California system-wide "Cops Off Campus Rally" at which protesters demanded all UC police departments be disbanded by September of next year.
At UC Santa Barbara, over 100 students, faculty and members of the community banged pot and pans in a "clamor of energy" and offered "impassioned chants" in their bid to get rid of campus cops, according to The Daily Nexus.
UCSB English professor Felice Blake told the crowd she and others are "deeply concerned" about cops' "use of violence and murder, especially [on] Black and Brown people." She also complained about how campus police had been used to quell UC Cost of Living Adjustment protests.
Blake said "We are here because it's time for us to be here, it's more than time. It's time for us to make a demand to abolish — and when I say abolish, I mean abolish — the police."
According to her faculty page, Blake's research interests include "literature, cultural studies, Black Studies, and gender studies."
Department of Chicana and Chicano Studies head Ralph Armbruster-Sandoval claimed that people opposed to getting rid of campus police suffer from an "impoverishment of imagination."
"There is a different way to become safe," he said. "There is a different way to address the reasons why there are different forms of crime. How can we address joblessness, poverty, the poor conditions people have to live in that create crime?"
Armbruster-Sandoval's academic interests include "race, labor, empire, social movements […] Marxism [and] liberation theology."
Protesters demanded that the UC divert funds to social services, away from the millions currently spent on policing. During the 2019-2020 academic year, UCSB's police department budget totaled almost $9.7 million, while the UC's overall budget for all 10 campuses combined was over $136 million.

"How many times has this university nickel-and-dimed you for everything for your books, for your food, for your right to be in this space?" Felicity Stone-Richards, a political science doctoral candidate at UCSB, asked the crowd.

"They're saying, 'We can't invest in your social services, we can't invest in your education, we can't invest in the thing you're here to do, but we can invest millions of dollars on a police force that abuses you?'"

The rally in [Isla Vista] was one of 10 Cops Off Campus events scheduled across the state at UC campuses. The events included a teach-in at UC Riverside, a bike and car caravan at UC Santa Cruz (UCSC), a march through campus at UC Merced and an "abolition party" at UC Los Angeles (UCLA).
The Nexus notes no police were present at the UCSB gathering; however, at UCLA, police had to deal with demonstrators jumping over barricades at that campus's police station.
MORE: Penn group: Dismantle campus police, 'decriminalize Blackness'
MORE: Activists occupy campus police HQ, upset pizza they ordered not allowed in
IMAGE: Yevgenij D / Shutterstock.com
Like The College Fix on Facebook / Follow us on Twitter