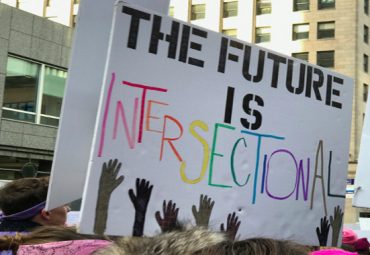 In this age of "self-identification" where anyone can claim to be whatever the heck he/she/xe wants to be, is it not true that the lone exception to that rule is … identifying as a certain race?
After all, if the saga of Rachel Dolezal taught us anything, it was that, right?
On the other hand, as the University of Oklahoma's George Henderson (author of "Race and the University: A Memoir") claims, "Race is a fiction of our imagination."
Who can keep track? It sure would help if there was a "Politically Correct (Hierarchy) Handbook" available to reference, which also should include ever-evolving PC spellings of standard English terms.
For instance, the University of California Santa Barbara Associated Students' Womxn's Commission is hosting its annual Womxn of Color Conference today which, according to the Daily Nexus, will honor "self-identifying women of color while bringing awareness to their intersectional struggles."
With that "self-identifying" reference, the conference appears to utilize Dr. Henderson's conception of race, while the term "womxn," like the more common "Latinx," is supposed to encompass "intersectionality."
The conference begins with "badass" speaker Zahira Kelly-Cabrera, an "award-winning sociocultural critic" who will speak about the "white-supremacist capitalist heteropatriarchy and what it means to minority women. "
"[…] I'm sure after hearing [Kelly-Cabrera] speak we will all be pumped up and ready to get the day started," third-year political science and art double major Siboney Arias, a Herstorian [get it?] on the board, said in an email.

Kelly-Cabrera's speech will be followed by two workshop sessions and a caucus space.

Session A and B will each have nine workshops that cater to every self-identifying attendees through specialized topics, including self-love/care, white supremacy and intercultural struggles of colored women.

Other workshops are aimed at building skill through career identity and vision building, such as the "Discovering my Career Identity" workshop, presented by a speaker named Monique.

KCSB will be also be hosting its own "Herstories" through a music workshop, during which Radio Xicana will give tips on how to use the radio as a platform for women of color.

"People should look forward to meeting some powerful and strong womxn that take shit from no one. They should look forward to learning about different issues that they aren't familiar with," Arias said in an email.
Though most of the conference workshops are available to everyone, some are open only to those of specific "identifications." According to the conference website, these are noted as "closed spaces" and include "Self Love and Visionary Fiction as Tools for Liberation, Justice and Autonomy," "Words (Un)spoken," and "Men in Organizing Spaces: Get Yo Shit Together."
My personal favorite is the Session B workshop "La Nalgona Poderosa y Su Arte [The Powerful Fat-Ass and Her/Their Art]: A Body-Positive Workshop for Self-Exploration and Storytelling of Latinx Identity and Body-Image Through Art." This seminar will, "in a safe and confidential space, […] engage in a resistant crafting of the self in a way to heal and decolonize the self through art."
MORE: Forget Intersectionality: At UCSB, feminist and LGBTQ factions at war
MORE: 'Womxn of Color Conference': 'World tries to erase our existence'
IMAGE: Keith Rowley/Flickr
Like The College Fix on Facebook / Follow us on Twitter