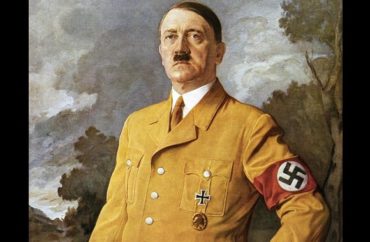 The investigation 'will surely chill free speech,' group warns
The University of California Santa Cruz launched an investigation of an unidentified group of students who hosted a birthday party for Nazi leader Adolf Hitler.
"A group of students reportedly gathered to celebrate Adolf Hitler's birthday," Vice Chancellor Akirah Bradley-Armstrong wrote in a message to the university community. "They sang happy birthday and ate cakes adorned with hateful and horrific symbols."
The university promised that this another incident involving an "antisemitic and anti-LGBTQIA+ flyer," would be "addressed accordingly."
"White supremacy has no place at UC Santa Cruz. Nor does any action intended to degrade, dehumanize, or intimidate another based on identity," the statement continued.
"We will not tolerate such vitriol; nor will we abide the fear and terror it intends to inspire," the vice chancellor wrote. "United by our shared sense of humanity, we must strive to be a welcoming place for all people. Together, we must continue to reject all expressions of hate."
The College Fix reached out to UC Santa Cruz via email and asked for more information on the investigation and if there are any First Amendment concerns of investigating the students, but the university has not responded in the past two weeks.
The investigation drew concern from a free speech group, which wrote to the university to warn it about the First Amendment consequences of its actions.
"While students celebrating Hitler's birthday doubtlessly offended some, whether speech is protected by the First Amendment is 'a legal, not moral, analysis,' the Foundation for Individual Rights and Expression wrote in a letter on May 8.
Spokeswoman Katie Kortepeter told The Fix on May 30 that the university has yet to respond to the letter.
"Students and administrators can, and should, express their opinions about issues they care about. This includes public statements condemning and criticizing the event," the group wrote in its letter.
FIRE stated in its letter that even if the students are cleared, the investigation alone can violate the First Amendment.
"Importantly, even if concluded in favor of the students, an investigation of constitutionally protected expression can itself violate the First Amendment," the free speech group wrote. "The question is not whether formal punishment is meted out, but whether the institution's actions in response 'would chill or silence a person of ordinary firmness from future First Amendment activities,'" the letter stated, citing a court case.
FIRE wrote:
Here, the university's code of conduct includes significant sanctions—ranging from mandatory participation in educational programming or reflection papers to suspension or dismissal, each of which suffices under the ordinary firmness test —such that an investigation sends a message that UCSC may punish such speech in the future.
The university statement that the incident was sent to student conduct, "will surely chill free speech and thus [clearly] harm First Amendment rights."
MORE: Stanford student reported for reading 'Mein Kampf'
IMAGE: Heinrich Knirr/Public domain
Like The College Fix on Facebook / Follow us on Twitter