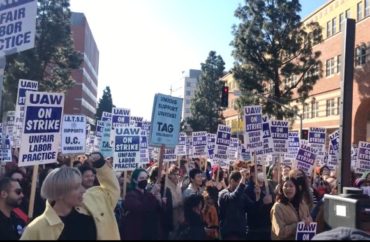 Teaching assistants claimed that they couldn't afford to live in California cities on low wages
The University of California system offered concessions in raises and benefits to its student workers union in a tentative agreement that may conclude a monthlong strike.
If their contract is ratified, the university system will give some workers salary raises of 66 percent over the next two years, with contracts through May 31, 2025, according to the Associated Press. Other concessions include more benefits for parent workers, protections against harassment, accessibility improvements, workplace protections and transit benefits.
"Our contract ratification votes began this morning and will end on Friday at 5pm," the UC Student-Workers Union, represented by the United Auto Workers, tweeted on Monday. "The majority of [union leaders] recommend a yes vote, while others oppose."
Our contract ratification votes began this morning and will end on Friday at 5pm. Workers are having important debates about ratification. The the majority of elected leadership of both SRU & UAW 2865 recommend a yes vote, while others oppose. Read the arguments for both below.

— UC Student-Workers Union UAW 2865 (@uaw2865) December 19, 2022
The university and the union, representing academic workers including graduate assistants, postdoctoral employees, and researchers, reached a tentative agreement on December 9, the AP. The strike was "the largest of its kind in the nation," drawing some 36,000 workers by the first week of December. Worker walkouts interrupted classes at all 10 university campuses, including UCLA, UC Berkeley, UC Santa Cruz, UC Merced and UC San Diego.
Roughly 48,000 unionized University of California workers across all 10 campuses had walked off the job on November 14, claiming that progress on proposals for fair compensation and workplace equity have been thwarted by UC's "unlawful conduct," The Center Square reported.
Striking workers also said that they could not afford on their current salaries to live in major California cities where the universities are located, the AP reported.
Graduate teaching assistants earning doctorates at UC Berkeley currently receive total funding of at least $34,000 per year for five years, including a yearly salary of $23,246 for those teaching half-time, according to the school's Graduate Division website. However, these teaching assistants also receive free tuition and health insurance.
Under the tentative agreement, the minimum salary for half-time teaching assistants for Berkeley, San Francisco, and UCLA will be $36,500 by October 1, 2024, according to a news release on Monday. Some will receive the greater salary on top of graduate student stipends, tuition waivers, or other sources of funding.
"These agreements will place our graduate student employees among the best supported in public higher education," UC President Michael Drake stated in the release. "If approved, these contracts will honor their critical work and allow us to continue attracting the top academic talent from across California and around the world."
MORE: Part-time faculty end three-week strike at university in New York
IMAGE: UC Student-Workers Union UAW 2865/Twitter
Like The College Fix on Facebook / Follow us on Twitter