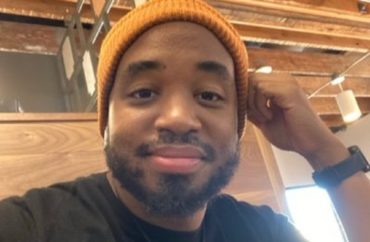 Campus officials and the alleged victim remain silent on the letter
The University of Cincinnati remains tight-lipped about the investigation into a racist letter allegedly sent to a professor, nearly two months after the incident first became public.
The College Fix has reached out to the alleged victim, Professor Antar Tichavakunda, campus police, the university's media team and a student who published the photo and all have remained silent about the message that contained racially charged language and used the n-word repeatedly.
It has been two weeks since Ashley Buten with campus police told The Fix she could help provide answers to questions about the status of the investigation. Buten connected The Fix to Public Information Officer Kelly Cantwell on December 12, but the spokesperson never responded. Cantwell ignored a follow-up email on December 14.
The letter, sent to Professor Tichavakunda in October, advocated for America to be "ethnically cleansed." It also claimed black people shouldn't be in school because "schools are for human beings not black afterbirth." The letter was posted on Instagram by Logan Johnson, a graduate student and trustee.
In Johnson's Instagram post, she stated she has experienced racism multiple times at the University of Cincinnati at the hands of faculty. She said the emails from the university "condemning the behavior…does nothing for Black Scholars."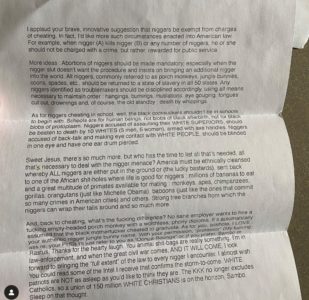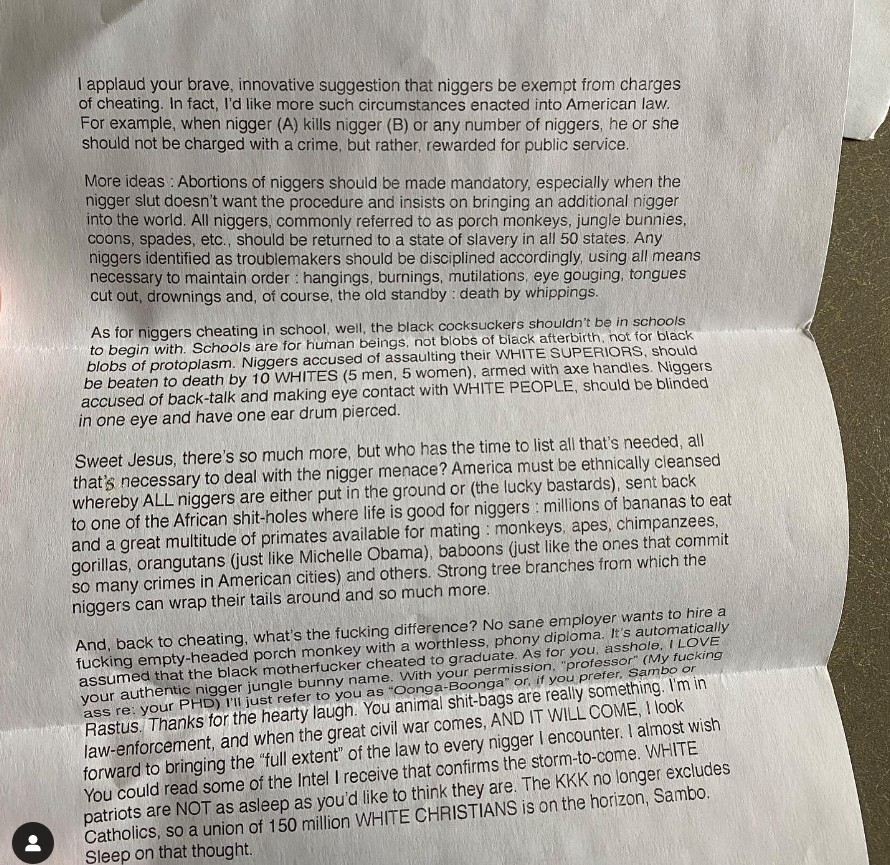 The Fix reached out to Tichavakunda (pictured) three times in the past month and Johnson once in the past two weeks to ask if either had an idea of who the sender was and what other instances of racism they have experienced on campus, but neither replied.
According to the Student Body President, Isaac Smitherman, the letter lacked a return address, thus making the sender challenging to find.
The university released a statement in November which said it was going to "pursue actions against the sender of the letter," whom Vice President for Equity Bleuzette Marshall claimed was from out of state. However, while Marshall said the sender was out of state, Undergraduate Student Body President Isaac Smitherman said the return address was "fake."
"We are aware of the anonymous letter from out of state that was sent to one of our faculty members," the statement from Vice President Marshall read. "Please know this matter is being addressed by the appropriate offices, and several colleagues and I have been in contact with both the faculty member and the graduate student to provide reassurance and offer support."
The Fix emailed multiple university media contacts in the past month and asked for updates but no response has been received.
MORE: Here are 14 time campus hate crimes turned out to be hoaxes in 2022
IMAGES: Logan Johnson/Instagram; Antar A. Tichavakunda/Twitter
Like The College Fix on Facebook / Follow us on Twitter